Warning
: Illegal string offset 'status_txt' in
/home/virtu151/public_html/wp-content/plugins/share-and-follow/share-and-follow.php
on line
1168
Warning
: Illegal string offset 'status_txt' in
/home/virtu151/public_html/wp-content/plugins/share-and-follow/share-and-follow.php
on line
1168
Warning
: Illegal string offset 'status_txt' in
/home/virtu151/public_html/wp-content/plugins/share-and-follow/share-and-follow.php
on line
1168
Warning
: Illegal string offset 'status_txt' in
/home/virtu151/public_html/wp-content/plugins/share-and-follow/share-and-follow.php
on line
1168
Warning
: Illegal string offset 'status_txt' in
/home/virtu151/public_html/wp-content/plugins/share-and-follow/share-and-follow.php
on line
1168
Warning
: Illegal string offset 'status_txt' in
/home/virtu151/public_html/wp-content/plugins/share-and-follow/share-and-follow.php
on line
1168
Warning
: Illegal string offset 'status_txt' in
/home/virtu151/public_html/wp-content/plugins/share-and-follow/share-and-follow.php
on line
1168
Warning
: Illegal string offset 'status_txt' in
/home/virtu151/public_html/wp-content/plugins/share-and-follow/share-and-follow.php
on line
1168
<![CDATA[
The photo taken by Christine Valters Paintner is the reflection of St. Patrick's Cathedral in NYC in the shimmering glass of an adjacent office building.
I am a big fan of Christine over at Abbey of the Arts, the abbey without walls—a virtual one if you please. The following poem is my submission for her 46th 'Poetry Party' on being a Monk in the World. Christine teaches many on-line classes related to living a spiritual life wherever and however we live. She just finished a 7 day class on being a Monk in the World and had 300 people take the class—this topic obviously hits a nerve for many of us!
As I make love
make salad
make mischief
make peace
I am always reminded
by the little things
the precious things
that spring tears unbidden from my heart-eyes:
Life is short

And here's the damn thing about it:

You're gonna die, gonna die for sure.

And you can learn to live with love or without it

But there ain't no cure. –John Hiatt
Being in love in concept
is a far cry from being in love
'for sure'.
Being in love with this world
brings grief, a sense of deep brokenness and a longing for home.
Being a monk in this world, right here, right now
brings a certain compassion
that only swimming in these waters
Can produce.
The by-product
the offspring of
being a monk in the world:
spaciousness and crowdedness
fearlessness and terror
sitting and running
is compassion.
Being a monk in this world doesn't take the place of home.
But it gives us moments of the sense of it.
So if death is certain, and the time of death is uncertain, what's important is this:
To live in the world with a *monk's heart and an artist's eye.
There just ain't no cure for what ails us.
Only medicine.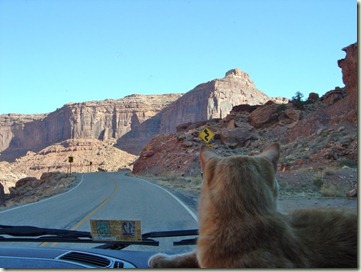 'Ferrari' in the Leisurevan, acting as a GPS going through Moab canyon. Photo taken by Rita Clagett.
~~~~~~~~~~~~~~~~~~~~~~~~~~~~~~~~~~~~~~~~~~~~~~~~~~~~~~~~~~~~~~~~`
*From Christine's Monk in the World 'Monk Manifesto':
Monk: from the Greek monachos meaning single or solitary, a monk in the world does not live apart but immersed in the everyday with a single-hearted and undivided presence, always striving for greater wholeness and integrity
Manifesto: from the Latin for clear, means a public declaration of principles and intentions.
Monk Manifesto: A public expression of your commitment to live a compassionate, contemplative, and creative life.
1. I commit to finding moments each day for silence and solitude, to make space for another voice to be heard, and to resist a culture of noise and constant stimulation.
2. I commit to radical acts of hospitality by welcoming the stranger both without and within. I recognize that when I make space inside my heart for the unclaimed parts of myself, I cultivate compassion and the ability to accept those places in others.
3. I commit to cultivating community by finding kindred spirits along the path, soul friends with whom I can share my deepest longings, and mentors who can offer guidance and wisdom for the journey.
4. I commit to cultivating awareness of my kinship with creation and a healthy asceticism by discerning my use of energy and things, letting go of what does not help nature to flourish.
5. I commit to bringing myself fully present to the work I do, whether paid or unpaid, holding a heart of gratitude for the ability to express my gifts in the world in meaningful ways.
6. I commit to rhythms of rest and renewal through the regular practice of Sabbath and resist a culture of busyness that measures my worth by what I do.
7. I commit to a lifetime of ongoing conversion and transformation, recognizing that I am always on a journey with both gifts and limitations.
]]>