Warning
: Illegal string offset 'status_txt' in
/home/virtu151/public_html/wp-content/plugins/share-and-follow/share-and-follow.php
on line
1168
Warning
: Illegal string offset 'status_txt' in
/home/virtu151/public_html/wp-content/plugins/share-and-follow/share-and-follow.php
on line
1168
Warning
: Illegal string offset 'status_txt' in
/home/virtu151/public_html/wp-content/plugins/share-and-follow/share-and-follow.php
on line
1168
Warning
: Illegal string offset 'status_txt' in
/home/virtu151/public_html/wp-content/plugins/share-and-follow/share-and-follow.php
on line
1168
Warning
: Illegal string offset 'status_txt' in
/home/virtu151/public_html/wp-content/plugins/share-and-follow/share-and-follow.php
on line
1168
Warning
: Illegal string offset 'status_txt' in
/home/virtu151/public_html/wp-content/plugins/share-and-follow/share-and-follow.php
on line
1168
Warning
: Illegal string offset 'status_txt' in
/home/virtu151/public_html/wp-content/plugins/share-and-follow/share-and-follow.php
on line
1168
Warning
: Illegal string offset 'status_txt' in
/home/virtu151/public_html/wp-content/plugins/share-and-follow/share-and-follow.php
on line
1168
<![CDATA[
The judgment of my judgments
is enough for my habituated mind
to climb aboard the hamster wheel of
regrets, misdeeds and failings.
There is no way of getting off this carousel
this prototypical Hotel California
except for re-directing, with humor, loving-kindness and compassion.
Much like we do with young children.
More and more frequently
I observe my shenpa
laden like a Grand Canyon mule
with worry, fear, guilt, shame and most of all, judgment.
And label that shenpa as a scamp, a scalawag, a mischief-maker
but not as bad.
Learning to sit with my little, worried mind
And give it spaciousness and kindness
is like giving real food to an 8 month old baby:
ready for something to chew on and yet not ready to give up
the bottle and the breast.
Would we call a baby that gets food all over their hair, face, Grandma– bad?
Or just not yet skillful?
Minding my mind just takes patience and awareness.
Like allowing a beloved child to learn how to eat.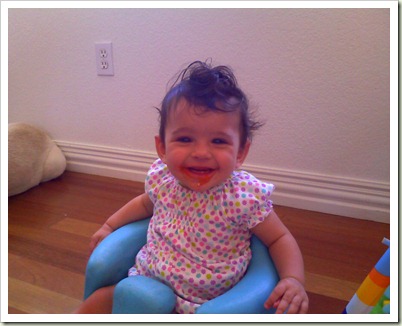 Lotus Ann, May 2010, 8 months old and ready for some food, already!
]]>