Warning
: Illegal string offset 'status_txt' in
/home/virtu151/public_html/wp-content/plugins/share-and-follow/share-and-follow.php
on line
1168
Warning
: Illegal string offset 'status_txt' in
/home/virtu151/public_html/wp-content/plugins/share-and-follow/share-and-follow.php
on line
1168
Warning
: Illegal string offset 'status_txt' in
/home/virtu151/public_html/wp-content/plugins/share-and-follow/share-and-follow.php
on line
1168
Warning
: Illegal string offset 'status_txt' in
/home/virtu151/public_html/wp-content/plugins/share-and-follow/share-and-follow.php
on line
1168
Warning
: Illegal string offset 'status_txt' in
/home/virtu151/public_html/wp-content/plugins/share-and-follow/share-and-follow.php
on line
1168
Warning
: Illegal string offset 'status_txt' in
/home/virtu151/public_html/wp-content/plugins/share-and-follow/share-and-follow.php
on line
1168
Warning
: Illegal string offset 'status_txt' in
/home/virtu151/public_html/wp-content/plugins/share-and-follow/share-and-follow.php
on line
1168
Warning
: Illegal string offset 'status_txt' in
/home/virtu151/public_html/wp-content/plugins/share-and-follow/share-and-follow.php
on line
1168
<![CDATA[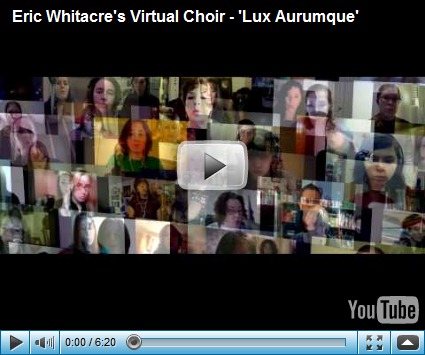 Combining 185 voices with 243 tracks from 12 countries into a choir unlike any other. What started as a simple social media experiment, has become a poetic metaphor of our shared humanity and the power of connection.
Acclaimed composer and conductor Eric Whitacre offered the sheet music of his original composition, as a free download and invited singers to submit a video of themselves performing one part (soprano, alto, tenor, or bass). These rather ordinary videos of solo performances were then pieced together to "Lux Aurumque", form a choir of singers who have never met each other…but have unwittingly created music in perfect harmony together.
Many more compositions by Eric Whitacre can be found here.
This YouTube video is also  found on Karma Tube.  KarmaTube is a collection of short, "do something" videos coupled with simple actions that every viewer can take. Their mission is to spread the good.
Deep bow of thanks to Dave Pollard of how to save the world for leading us to this place of beauty and peace.
]]>