<![CDATA[
Ochres, those naturally occurring pigments from oxidized iron
are building blocks of the gods.
The variant reds and yellows of the mountain and desert canyons
rests our eyes and makes our hearts sing.
Meanwhile, back at the ranch
The shine on the oil slick includes the beautiful colors from
compressed biologicals
who lived and thrived in community with those same pigments.

Aerial shot, looking down at an oil slick hitting a beach.
Do you think those rascally gods care that humanity
loves their architecture and art so passionately?
Or that that same humanity could be so damned careless?
Here playing like he's Zeus on red ochre rock, Garden of the Gods outside Colorado Springs, is my grandson Edan, May 2010.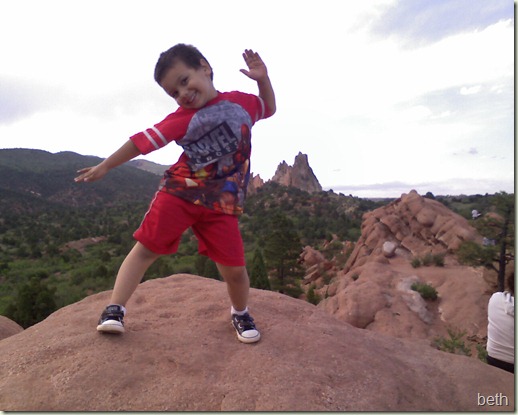 Thank you to Nothing Hypothetical for this week's One Single Impression prompt, ochre.
]]>