<![CDATA[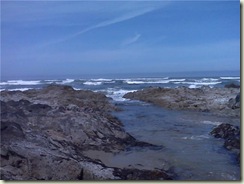 Like the river I've written of before, the sea leaves me with the same message, day after day.  That message is, "I go on". 
Just as I wake each morning to see the river's currents still moving toward the ocean, instant by instant, hour by hour, day by day, year by year, so the waves break on the rocky coast and so the tides come and go in that same steadfastness.  They wait for no instruction, they do not THINK their way to the shore, they are not stumped by suffering or indecision in what comes next…they just "are" and in BEING they do what comes next without thought.
It seems the same for the gulls, who attentively float the winds dashing for the next mussel they spy.  Do they think before they dive or do they dive of instinct, I think the latter.  Then they use the rocks to hold their lunch while their beaks crush shells eager for tender bellies.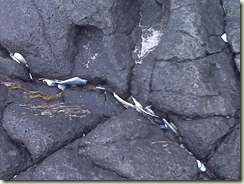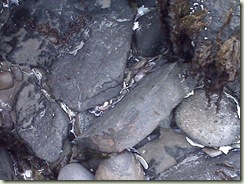 You may see ochre here amidst the bleached white, slate gray and wet sand but mostly the seaweed is picked clean of all the nutrients that can be used to support the life around it.
And so I SEE the teaching here, as everywhere, my suffering and resulting ululations come from thinking, predicting and expecting when all I really need is just to BE because what comes next appears as mystery, ever interwoven and amidst this consciousness, yet unknown to me until ripened and revealed.  And revealed it is! Glowing with a grace-filled, hallowed light and full of LOVE bringing bliss and contentment unmatched by any turn of will I might perceive I've ever accomplished in this life.
Just as the river runs and the waves hit the shore, it comes to those who can find moments of STILLNESS, still enough to BE…
(Written in response to One Single Impression's prompt "ochre" supplied by Nothing Hypothetical, thanks NH!  Stroll on over to OSI for more great responses to this week's prompt.)
]]>