Warning
: Illegal string offset 'status_txt' in
/home/virtu151/public_html/wp-content/plugins/share-and-follow/share-and-follow.php
on line
1168
Warning
: Illegal string offset 'status_txt' in
/home/virtu151/public_html/wp-content/plugins/share-and-follow/share-and-follow.php
on line
1168
Warning
: Illegal string offset 'status_txt' in
/home/virtu151/public_html/wp-content/plugins/share-and-follow/share-and-follow.php
on line
1168
Warning
: Illegal string offset 'status_txt' in
/home/virtu151/public_html/wp-content/plugins/share-and-follow/share-and-follow.php
on line
1168
Warning
: Illegal string offset 'status_txt' in
/home/virtu151/public_html/wp-content/plugins/share-and-follow/share-and-follow.php
on line
1168
Warning
: Illegal string offset 'status_txt' in
/home/virtu151/public_html/wp-content/plugins/share-and-follow/share-and-follow.php
on line
1168
Warning
: Illegal string offset 'status_txt' in
/home/virtu151/public_html/wp-content/plugins/share-and-follow/share-and-follow.php
on line
1168
Warning
: Illegal string offset 'status_txt' in
/home/virtu151/public_html/wp-content/plugins/share-and-follow/share-and-follow.php
on line
1168
<![CDATA[
This is the final of the Lenten Reflections for 2010. Our study group has ranged far and wide, and discovered some important facets of ourselves and scripture. Tomorrow night is our Women's Seder, led by Krayna Castelbaum. The Lenten group will meet one last time after Easter to check in with our individual and group process. It's been a hell of a ride, so to speak!
This important day in liturgical Christianity I woke up thinking about prayer shawls for no particular reason. As I did my early morning walk with Geronimo, I got to thinking about what a prayer shawl is.
The shawls' functions seem to be: contain and focus the energy; make the wearer aware of both their body and particularity as well as the larger picture and their place in the chain of prayers of all kinds that circle the universe. They also serve as a reminder of the lineage of prayer in all its myriad forms throughout the world.
In the pre-dawn hours, just as the sun would have been coming up, if there had been a sunrise here in overcast, wintery Central Oregon this Easter, somehow the image of the earth itself as a prayer shawl for G'd came to me. I wish I were a visual artist so that I could show you the image, but it was beautiful. It had something to do with G'd enlivening and enlightening her many sons and daughters in all sorts of species, contexts, colors, shapes and sizes, to remind each of us of our lineage, our heritage as beloved children. And the image had something to do with our responsibility in return to that which creates us: to be mindful of everything that surrounds us, to live in meditation, whether we're humming, dancing, working, eating, laughing bawdily, making love, eliminating unused material from our bodies, and yes, even cursing.
So when this quote came to my attention later in the day, it had to be shared, and in the context of the Earth as a Prayer Shawl for That Which We Call God (for lack of a better name).
This whole world is a very narrow bridge,
and the main thing is not to fear at all.
–Rebbe Nachman of Braslov
There is also a post coming sometime, as soon as it's 'baked' about G'd as Transitional Object (as in Object Relations theory).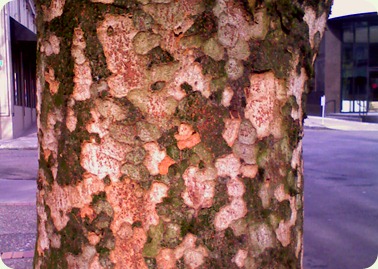 Bark on a tree in Portland Oregon, March 2010 from about 2 feet.

Can you see the continents, the seas? And then moving back, the earth as just one of the tiny islands in the universe?
Here are the other 4 Lenten Reflections.
Lenten reflection 1: Ashes on my third eye
Lenten reflection 2: Having it my way
Lenten reflection 3: Hell is breaking out in the kingdom of God
Lenten reflection 4: Four Words
]]>