Warning
: Illegal string offset 'status_txt' in
/home/virtu151/public_html/wp-content/plugins/share-and-follow/share-and-follow.php
on line
1168
Warning
: Illegal string offset 'status_txt' in
/home/virtu151/public_html/wp-content/plugins/share-and-follow/share-and-follow.php
on line
1168
Warning
: Illegal string offset 'status_txt' in
/home/virtu151/public_html/wp-content/plugins/share-and-follow/share-and-follow.php
on line
1168
Warning
: Illegal string offset 'status_txt' in
/home/virtu151/public_html/wp-content/plugins/share-and-follow/share-and-follow.php
on line
1168
Warning
: Illegal string offset 'status_txt' in
/home/virtu151/public_html/wp-content/plugins/share-and-follow/share-and-follow.php
on line
1168
Warning
: Illegal string offset 'status_txt' in
/home/virtu151/public_html/wp-content/plugins/share-and-follow/share-and-follow.php
on line
1168
Warning
: Illegal string offset 'status_txt' in
/home/virtu151/public_html/wp-content/plugins/share-and-follow/share-and-follow.php
on line
1168
Warning
: Illegal string offset 'status_txt' in
/home/virtu151/public_html/wp-content/plugins/share-and-follow/share-and-follow.php
on line
1168
<![CDATA[
Truth be known, January, February and March were challenging months.  First, I was sick with a horrid cough for six weeks, then I witnessed a dog getting hit by a car (and when I reached out to try to get a number off his collar he about bit my hand in half which required a tetanus shot, antibiotics and the healing of a deep puncture wound), then I had an atrocious mouth surgery and was in pain for almost three weeks.  It all left me feeling a little in need of some "patches of peace". 
Do the words "patches of peace" resonate for you?  I made up that term years ago when it was really tough to stop the stupid mind-chatter.  The search for them has led me to spend weeks on a remote sand-stone butte, into the deepest canyons and to the top of some dang-high m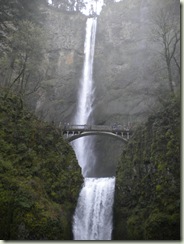 ountains.  They've also surprised me by finding me on the 405 freeway and in my parents' living room.  This time, I knew they'd be waiting for me some where green so the boyfriend, dog, parrot and I loaded up the ancient RV and took off to the land of waterfalls:  the Colombia River Gorge.
Less than 45 minutes from Portland and on a on-ramp to I-84, the falls are on every tourists' to do list.  I, myself, had stopped at them three or four times during the past.  This time, however, I was prepared to do more than merely take photos from the parking lot…this time, I was armed with hiking boots, rain gear, home-made hummus, a Border Collie and the equivalent of a human-GPS.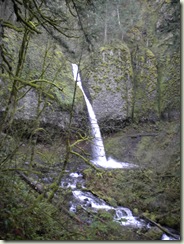 Turns out, The Gorge was full of patches of peace and the perfect place to slow down and reconnect with what is good and right in the World and in my own life.  The pictures, of course, don't do it justice but I do hope they'll energize you with the Spirit of the place and with what a patch of piece is to me.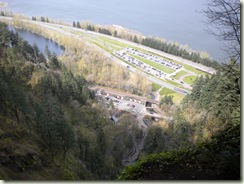 ]]>