Warning
: Illegal string offset 'status_txt' in
/home/virtu151/public_html/wp-content/plugins/share-and-follow/share-and-follow.php
on line
1168
Warning
: Illegal string offset 'status_txt' in
/home/virtu151/public_html/wp-content/plugins/share-and-follow/share-and-follow.php
on line
1168
Warning
: Illegal string offset 'status_txt' in
/home/virtu151/public_html/wp-content/plugins/share-and-follow/share-and-follow.php
on line
1168
Warning
: Illegal string offset 'status_txt' in
/home/virtu151/public_html/wp-content/plugins/share-and-follow/share-and-follow.php
on line
1168
Warning
: Illegal string offset 'status_txt' in
/home/virtu151/public_html/wp-content/plugins/share-and-follow/share-and-follow.php
on line
1168
Warning
: Illegal string offset 'status_txt' in
/home/virtu151/public_html/wp-content/plugins/share-and-follow/share-and-follow.php
on line
1168
Warning
: Illegal string offset 'status_txt' in
/home/virtu151/public_html/wp-content/plugins/share-and-follow/share-and-follow.php
on line
1168
Warning
: Illegal string offset 'status_txt' in
/home/virtu151/public_html/wp-content/plugins/share-and-follow/share-and-follow.php
on line
1168
<![CDATA[
I remember the first time I heard the word. It was in 1980 and it was my then computer-geeky Jewish boyfriend's cat's name. I once asked him what the word meant and he first talked about it being some computer/engineer concept. When my eyes glazed, he launched into it also being a symbol of an incarnated deity that didn't have to have taken form, but choose to. At least I sat up and listened to this definition, but now I know that he used the word incorrectly. He talked about the word as if it meant 'bodhisattva'. Probably too long for a cat's name. At any rate, I lodged the word away, as it was a curiosity to me, for oh, about 22 years until it started being used in web-based settings to mean the image, the form you wish to take. Maybe for the day, maybe for a long time, but like a costume, it can be changed and melded.
Since some of the poets and readers of One Single Impression are not aware that there are several bloggers on the VTH, I had an idea for this week's prompt. I asked the bloggers for the Virtual Tea House to write to the One Single Impression prompt, avatar. Hopefully this will illustrate a couple things:
1) one the rich variety of styles and perspectives of the loosely knit, but tightly wound band of bloggers and

2) there are avatars within avatars.
Hope you have fun with these takes on the One Single Impression prompt, avatar. Check out the site for an even bigger smorgasbord of takes on this week's prompt. A BIG thank you to all those VTH bloggers who came out to play with their avatars.
From Tania Crawford
Tania is a new blogger on the VTH, but she writes regularly. The subjects right now are around her exploration into right food for both body and soul. She lives in Central Oregon with her beloveds, which include a human, a dog and a parrot named Keiko.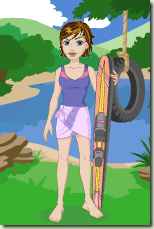 I'd like to think you and I are just alike, Avatar.
Striking red hair, bright blue eyes…
Perky boobs on a body so strong.
A confident stance that shouts, "bring it on"
Topped by a sweet face that whispers, "I understand".
What part of me created you, Avatar?
The part who is grandiose and simultaneously insecure
or the part who gets that inner reality doesn't always match outer experience?
Oh Avatar! Please tell me: are you what I secretly am or what I want to be?
From Dances with Loons
Dances with Loons (DWL) has been writing on the VTH for about a year. DWL writes poetry, deep and complex, like a really intense cup of black tea. 'DWL' writes poetry regularly for the One Single Impression prompts.
Mind as Avatar
"They exchanged their glory for the image of a grass-eating bullock." –Psalm 106
I put an umbrella in my bag
They say it will rain tomorrow
I'll have to walk from the subway to work
It will be much easier having planned ahead.
I wait to invite friends over
Until the house is clean
And all is in its place
I cannot let chaos rule the house or dampen the fun.
I trace the vein in your hand;
I imagine doing this for years to come
Until the skin becomes thin and transparent
And the lines of your face weathered and deep.
This longing makes me alive
They call it love,
They call it future,
They call it planning…
It holds my happiness in its grasp
Without it I am nothing
I have no reason to live
No semblance of worth.
Future planning…
An illusion of control
That is really decline.
Always a toe in the water first…
Fear.
Over years I have climbed to
A precipice between light and dark;
Yin and yang;
I glimpse God's illumination
A miraculous, unfolding mystery,
Unknown until known…
Peace.
I recognize my mind as a crafty avatar…
Sometimes masquerading
But never being.
From David Santangelo
David is the newest blogger on the VTH. He has recently published his first book, The Way Home. He makes his home in Bend with his wife and children.
Beacon of Hope
I wish I was an avatar.
An avatar of Change,
An avatar of Hope.
I wish I was an avatar,
An embodiment of something Divine
On this Earth.
Instead I tend to flounder,
Humanness my M.O.
My greatest moments fleeting,
My falling, ever slow.
I wish I was an avatar,
Big, tall, blue.
Standing in the treetops,
howling at the moon.
From Kathryn Ruth Schuth
Kathryn is a new blogger on the VTH. She is an architect from the mid-west, so her prose and poems have great structure—solid, creative and real.
the vacuum
over pizza this weekend
and orange cheese puffs and wine
a friend told me that every time she cleaned her basement she shuddered and hoped that she was lucky enough
so that she would not be reincarnated as a shop vac
what a terrible terrible fate
always with your nose in the untouchable, unthinkable, unknowable dank mess
worse even than her other great fear
being reincarnated as an elevator
going up and down and up and down
on the same tracks always
never free to go sideways
as we choose to incarnate our self-gods
i wonder which of our current avatars make us exactly the things we fear in reincarnation when the choice is no longer ours
Rosemerry is an occasional blogger for the VTH, and an always friend. She is a author who has published several books, a teacher and an orchardist. She lives in western Colorado with her husband and two children.
The Avatar of Paradox
She's the exception to the rule—the rule is there are no exceptions.
In the soft space beneath her shoulder blades,
wings. On her feet, boots made of lead. Every
time she tries to fly, she falls instead. Her glass
is both half full and half empty. Temptation is
the only thing she can't resist. Her lunacy
is methodical. She isn't who she is. She'll tell
you the truth: she's a liar. Her secrets are all
well known. She knows that she knows nothing.
Oh damn these boots of lead.
She is always two thirds happy and at the same time
two thirds sad. She must have her lover,
but her lover drives her mad. All night she dreams
but never sleeps, the silence is much too loud.
Oh damn these boots, these tethers to earth,
this mysterious earth, oh bless these boots of lead.
From Beth Patterson, Grateful Host for this Band of Gypsies
Beth opened the Virtual Tea House exactly three years ago this month. Happy anniversary to an experiment in virtual community! Thank you to all who count on the VTH for inspiration, challenge and something to read over a cuppa. Stay tuned for a new look on this site—same great content.
I can imagine of no other avatar than this:
To be one of Mary Oliver's wild geese.
With the moon in one eye
And the howl in my down
I challenge you to distinguish me
from a poet.
Or Maxfield Parrish.

'Wild Geese' by Maxfield Parrish
]]>