Warning
: Illegal string offset 'status_txt' in
/home/virtu151/public_html/wp-content/plugins/share-and-follow/share-and-follow.php
on line
1168
Warning
: Illegal string offset 'status_txt' in
/home/virtu151/public_html/wp-content/plugins/share-and-follow/share-and-follow.php
on line
1168
Warning
: Illegal string offset 'status_txt' in
/home/virtu151/public_html/wp-content/plugins/share-and-follow/share-and-follow.php
on line
1168
Warning
: Illegal string offset 'status_txt' in
/home/virtu151/public_html/wp-content/plugins/share-and-follow/share-and-follow.php
on line
1168
Warning
: Illegal string offset 'status_txt' in
/home/virtu151/public_html/wp-content/plugins/share-and-follow/share-and-follow.php
on line
1168
Warning
: Illegal string offset 'status_txt' in
/home/virtu151/public_html/wp-content/plugins/share-and-follow/share-and-follow.php
on line
1168
Warning
: Illegal string offset 'status_txt' in
/home/virtu151/public_html/wp-content/plugins/share-and-follow/share-and-follow.php
on line
1168
Warning
: Illegal string offset 'status_txt' in
/home/virtu151/public_html/wp-content/plugins/share-and-follow/share-and-follow.php
on line
1168
<![CDATA[
This is a submission for the 45th Festival of the Trees hosted this edition at the very cool The Voltage Gate. Here's also the link to the Festival of the Trees homepage.
I have a few trees in my slightly larger than a breadbox yard here in Bend, Oregon.
Two large blue spruce, a crabapple and a dying mountain ash in my front yard.
A large weeping birch, also slowly losing the battle to bronze borer beetle in the backyard, along with a couple of plum trees and an encroaching thicket of aspens. AND, oh joy, a volunteer ponderosa now about 6 years old that will someday, with a little bit of grace, take over the back yard when the birch succumbs.
I am intimate with all these trees. I groom and care for them, talk with them, write about them, watercolor them, laugh with them. They give me much more than I can ever say. Or maybe it's more than I ever will say. Maybe the mystery of tree-love needs to stay protected from the uninitiated?
Here is a look at the crabapple in my front yard the day after a recent snowstorm. Can you see how impossible it is not to love her? Even though she strains the relationship with the annual dumping of bounty in October…
The first view didn't catch your heart? Here's another.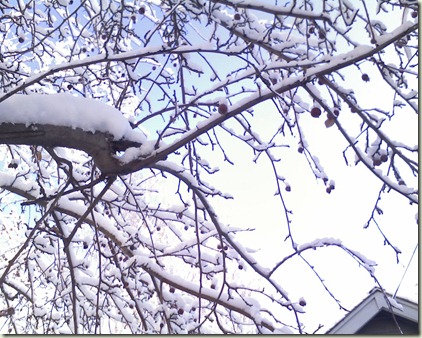 Oh, all right, here's yet another, since you asked so nicely.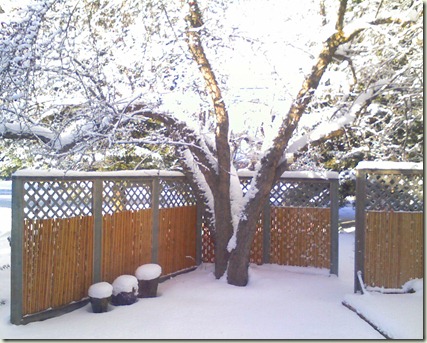 Since I've had trees as friends since childhood (my BFF then was a large weeping willow back in upstate Pennsylvania) I can't imagine what it must be like to be tree-bereft, or tree-oblivious. I'm sure I've not been as open-hearted as I could be with trees, but I'm learning, and they are great teachers.
]]>