Warning
: Illegal string offset 'status_txt' in
/home/virtu151/public_html/wp-content/plugins/share-and-follow/share-and-follow.php
on line
1168
Warning
: Illegal string offset 'status_txt' in
/home/virtu151/public_html/wp-content/plugins/share-and-follow/share-and-follow.php
on line
1168
Warning
: Illegal string offset 'status_txt' in
/home/virtu151/public_html/wp-content/plugins/share-and-follow/share-and-follow.php
on line
1168
Warning
: Illegal string offset 'status_txt' in
/home/virtu151/public_html/wp-content/plugins/share-and-follow/share-and-follow.php
on line
1168
Warning
: Illegal string offset 'status_txt' in
/home/virtu151/public_html/wp-content/plugins/share-and-follow/share-and-follow.php
on line
1168
Warning
: Illegal string offset 'status_txt' in
/home/virtu151/public_html/wp-content/plugins/share-and-follow/share-and-follow.php
on line
1168
Warning
: Illegal string offset 'status_txt' in
/home/virtu151/public_html/wp-content/plugins/share-and-follow/share-and-follow.php
on line
1168
Warning
: Illegal string offset 'status_txt' in
/home/virtu151/public_html/wp-content/plugins/share-and-follow/share-and-follow.php
on line
1168
<![CDATA[
Ok. So there's all these words and characters (some noble, some not so much) in the Bible, but for those of us born as buttoned-down Christians, or even as cultural ones, the primary relationship is with Jesus. So I'm going out on a limb here in this post. You don't have to follow. Maybe you shouldn't even stand close this week, as inexplicable things may happen to me. If they do, you know who to blame. Don't you?
Duck and dodge.
That's how I've related to Jesus.
He's my teacher
and I'm afraid of him.
What if I don't get my lessons?
What if I don't get any of it right?
What if he really doesn't care?
What if he's jealous about my relationship with the Buddha (I have slept with the Buddha after all—but that's another post).
What if he doesn't like all the shuckin' and jivin' of my beloved Sufi mystics and poets?
What if there is some small bone in his little finger that is full of brimstone?
So, after years of theological work and spiritual longing
I've decided that his place in my heart as a far-distant cousin, twice removed
is not close enough.
Does that mean that I have to sit next to him and hold his hand, for God's sake?
He didn't want us to start a religion in his name. Peter made that up.
He was a reformer of the practices as they were, of Judaism. He was a catalyst.
He was a radical.
He wanted us to rend our heart, not our garments.
He wants us to rend our heart, not our garments.
The mistakes of Adam and yes, too, of Eve
are as present in my heart as they were in theirs.
I want to have it my way. Like Burger King says I can.
What if Jesus says, ' That's cool. Your way to rest is really the same as mine?'
Then what?
The passage for this past week's group Lent study was:
Yahweh says this:
'Put yourselves in the ways of long ago

Inquire about ancient paths.

Which was the good way?

Take it and then you shall find rest.'
But what if I find what I'm really looking for when I look into his eyes?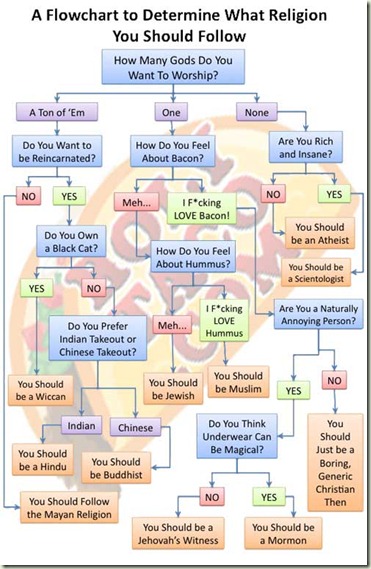 Flowchart from Dave Pollard's unabashedly irreverent blog: how to save the world. Dave borrowed it from holytaco, a site full of funny stuff.
This is the second in a series of Lenten reflections. Over the next five weeks, friends and I are doing a Lenten study course with Christine Valters Paintner from the wonderful Abbey of the Arts. I will be writing some of my reflections, returning to ancient practices that can help me renew my most sacred vows. This is not easy or done without discernment, having left most religious 'trappings' behind. But I'm feeling drawn to revisit and see them with new eyes, as if for the first time. I hope you will consider traveling with me/us on this pilgrimage to the Heart of the Matter. There are challenges to reading the words of scripture that I struggle with. Challenges to allowing my heart door to creak open to their meaning, much of which feels so irrelevant and discordant with what I know of God's love to be. And I'm determined to be on my way.
]]>