Warning
: Illegal string offset 'status_txt' in
/home/virtu151/public_html/wp-content/plugins/share-and-follow/share-and-follow.php
on line
1168
Warning
: Illegal string offset 'status_txt' in
/home/virtu151/public_html/wp-content/plugins/share-and-follow/share-and-follow.php
on line
1168
Warning
: Illegal string offset 'status_txt' in
/home/virtu151/public_html/wp-content/plugins/share-and-follow/share-and-follow.php
on line
1168
Warning
: Illegal string offset 'status_txt' in
/home/virtu151/public_html/wp-content/plugins/share-and-follow/share-and-follow.php
on line
1168
Warning
: Illegal string offset 'status_txt' in
/home/virtu151/public_html/wp-content/plugins/share-and-follow/share-and-follow.php
on line
1168
Warning
: Illegal string offset 'status_txt' in
/home/virtu151/public_html/wp-content/plugins/share-and-follow/share-and-follow.php
on line
1168
Warning
: Illegal string offset 'status_txt' in
/home/virtu151/public_html/wp-content/plugins/share-and-follow/share-and-follow.php
on line
1168
Warning
: Illegal string offset 'status_txt' in
/home/virtu151/public_html/wp-content/plugins/share-and-follow/share-and-follow.php
on line
1168
<![CDATA[
At age three and a half to four and a half
Regardless of what the weather appears like to me
Everyday he wakes up
Patters into my room if he's not already sleeping with me and says,
'Grandma Beth! Grandma Beth! It's a sunny day outside! Let's go play!'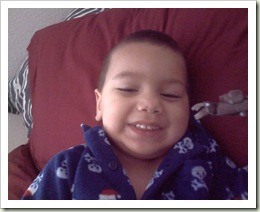 Edan waking up next to me, with the ubiquitous Iron Man on his pillow, April 2009. Edan is almost 4 here.
I wonder when I see him again in May as he turns five
Will each day still be a full scale potentiality, an unwritten slate
or will it already be boringly marked and limited with the usual
clouds, rain, snow, sleet?

Edan, October 2009, almost four and a half Don't mess with this kid!
This poem is a submission for the One Single Impression prompt: sunny days. Thanks to Jeeves of Silence is Poetic for the prompt. Head over to the OSI link to sashay through some sunny days.
]]>