Warning
: Illegal string offset 'status_txt' in
/home/virtu151/public_html/wp-content/plugins/share-and-follow/share-and-follow.php
on line
1168
Warning
: Illegal string offset 'status_txt' in
/home/virtu151/public_html/wp-content/plugins/share-and-follow/share-and-follow.php
on line
1168
Warning
: Illegal string offset 'status_txt' in
/home/virtu151/public_html/wp-content/plugins/share-and-follow/share-and-follow.php
on line
1168
Warning
: Illegal string offset 'status_txt' in
/home/virtu151/public_html/wp-content/plugins/share-and-follow/share-and-follow.php
on line
1168
Warning
: Illegal string offset 'status_txt' in
/home/virtu151/public_html/wp-content/plugins/share-and-follow/share-and-follow.php
on line
1168
Warning
: Illegal string offset 'status_txt' in
/home/virtu151/public_html/wp-content/plugins/share-and-follow/share-and-follow.php
on line
1168
Warning
: Illegal string offset 'status_txt' in
/home/virtu151/public_html/wp-content/plugins/share-and-follow/share-and-follow.php
on line
1168
Warning
: Illegal string offset 'status_txt' in
/home/virtu151/public_html/wp-content/plugins/share-and-follow/share-and-follow.php
on line
1168
<![CDATA[
I've learned that karma comes around more quickly the more open I am to learning life lessons.
I've learned that sleeping outside around my firepit can push my reset button from just about any disturbance in my peace of mind.
I'm learning that working away at a craft like watercolor teaches me things that no book ever could.
Like what, you might add?
Like, water takes the path of least resistance and  seeks its own level (like most humans).
Like, allowing water to do what it will will provide far more interest than harnessing it (like evolving humans).
I've learned that those friends that call you out of the blue from 3, 000 miles away just because they're thinking about you, even though they haven't seen you in years—those friendships are few and far between.
I've learned that beating on drums with friends can recalibrate my heart's rhythm.  Really.
I've learned that sleeping dogs sometimes need to be woken up to go on long hikes so they will sleep when you do.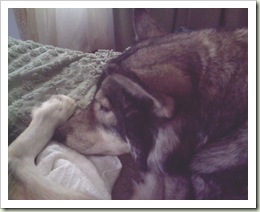 That's about it.  It's a short list, but it's been a busy and difficult couple of weeks round these parts. 
What have you learned lately?
]]>