<![CDATA[
This is in the continuing vein of trying to crystallize, maybe for future writing, maybe just to say the words, a few things each week that are in the flow around and through me. If you want to see the other weekly posts, put 'ten things' in the search box at the top of the page and it will list them all.
Want to know more about the 'thin places' of this time of year. Really dive in. Or through.

Want to know more about my dream states during this and other 'thin places'. The amount and content of my dreams is amazing.

Love hoar frost! Christmas Day and for two days after that were those kinds of magical days. I feel like I'm in Narnia with that type of frost. But NOT the part of it 'always being winter but never Christmas'!

Went off my 'you can't buy any more books until you read the ones you have' ban this week, without a hitch of guilt. Just like that I'm back in the addiction of the smell, feel and fatal attraction. Oh oh.

It may be an illusion. Probably is. But I feel more secure walking on the icy streets in the pre-dawn with my YakTracks on.

Sabbath happens, bidden or unbidden. It's like we're programmed to occasionally just stop, for pete's sake. I want to make this more of a 'bidden' piece of my life.

Having a friend stay in my home during the holidays is one of the best parts.

Being a blonde (again) is fun—I like the sunny-ness of my countenance. I don't know if I AM more fun, though. I need to work on that.

Preparing for a major dietary change is both invigorating and frightening. (I start on Medifast on January 2.)

Starting new holiday rituals is easier than we might think. For the second year in a row I've given gift cards for Barnes and Noble (all right, it should be a local bookseller—next year!) to all the family, and we go together to pick out books/games. It's fun watching us all, even the 6 year old, wander and ponder. Then we come home for a delectable meal—last night it was pasta and home made marinara, and movies. Two years makes a straight line…it's now a holiday ritual!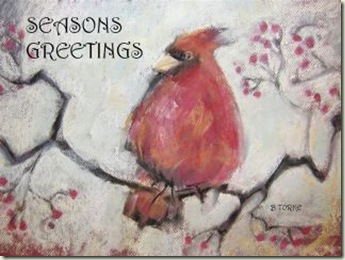 Happy new year!
]]>