<![CDATA[
1. Water pipes that freeze every year eventually will break. Duh.
2. Sometimes saying hard things to people you love—well, you'd rather have your fingernails pulled out.
3. Everything is connected. If I can't see it, it's because my eyesight is too damn limited.
4. Bringing the darkness to the light, instead of the other way around, is what solstice is about for me.
5. I'm not very patient with the waiting part of Advent.
6. Waking up from whatever keeps me asleep, is not a walk in the park. Although it may entail a couple of those.
7. I've started saying it out loud this week: I'm going to Ireland this next year to dive into my Celtic roots and explore the connection of that ancestral lineage with fire.
8. I have a 6 week sabbatical coming up in 2010. What else besides Ireland should I do?
9. Studying Greek and Byzantine religious icons embers-up my soul fire.
10. I think I want to take some seminary classes on line. I'm feeling the need to learn more, learn different, expand on my current knowledge.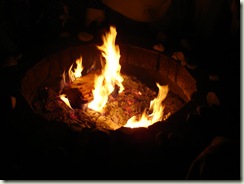 Happy, warm, sweet holidays to each of you!
]]>