Warning
: Illegal string offset 'status_txt' in
/home/virtu151/public_html/wp-content/plugins/share-and-follow/share-and-follow.php
on line
1168
Warning
: Illegal string offset 'status_txt' in
/home/virtu151/public_html/wp-content/plugins/share-and-follow/share-and-follow.php
on line
1168
Warning
: Illegal string offset 'status_txt' in
/home/virtu151/public_html/wp-content/plugins/share-and-follow/share-and-follow.php
on line
1168
Warning
: Illegal string offset 'status_txt' in
/home/virtu151/public_html/wp-content/plugins/share-and-follow/share-and-follow.php
on line
1168
Warning
: Illegal string offset 'status_txt' in
/home/virtu151/public_html/wp-content/plugins/share-and-follow/share-and-follow.php
on line
1168
Warning
: Illegal string offset 'status_txt' in
/home/virtu151/public_html/wp-content/plugins/share-and-follow/share-and-follow.php
on line
1168
Warning
: Illegal string offset 'status_txt' in
/home/virtu151/public_html/wp-content/plugins/share-and-follow/share-and-follow.php
on line
1168
Warning
: Illegal string offset 'status_txt' in
/home/virtu151/public_html/wp-content/plugins/share-and-follow/share-and-follow.php
on line
1168
<![CDATA[
This post is for a synchroblog on Christianity and Health Care. I urge you to visit the other blog posts listed at the end of this one for some great reading with a large diversity of thoughts on this topic. Begging your pardon for this post's rambling discussion about the topic!
I am doing an end run on the topic and basically re-posting something that I recently wrote relating to a friend's death in May 2009. She hastened her death by a few days or weeks, but she did it with great compassion, planning and forethought for the probable ripples in the lives of those left. This way of leaving a body riddled with disease and pain is so far from suicide that it can not be even classed with it, although the hastening of death via the Death with Dignity Act in Oregon is a self-administered lethal dosage of medication.
The battle rages across the US about many aspects of health care. One piece of the fray is this question of whether or not we should be allowed to hasten our death. There's lots of opposition, mainly from religious institutions, and mainly on the slippery slope argument. What I'm beginning to formulate in my mind and heart is a new way of religiously thinking about this issue. You are reading the very early stages of this part of a much larger personal dialectic.
The Christian church came to its present stance on suicide in the 6th century. From Religious Reflections on Suicide by LaRita Archibald, italics mine:
The only Biblical authority is the interpretation of the sixth commandment, "Thou Shalt Not Kill". The Old Testament records suicides, but does not condemn it nor promises a happy afterlife.

Ablimlech – (Judges 9) who killed himself to avoid having it recorded that he was mortally wounded by a woman.
Samson – (Judges 16) who pulled the temple down upon the Philistines, killing them and praying that he die as well.
Saul – (Samuel 31) and his armor-bearer killed themselves rather than be taken captive by the Philistines.
Ahitophel – (Samuel 17) whose betrayal of David failed.
Zimiri – (Kings 1) burned a building down upon himself.

CHRISTIANITY
The New Testament records one suicide.

Judas Iscariot (Mathew 27) Judas hanged himself after his betrayal of Christ. Theologians have debated, if God did condemn Judas, was it because he killed himself (in remorse for the betrayal) or for the betrayal itself.

The New Testament hails both Samson and Saul as great servants of God. Samson is noted as a great hero of the faith "of whom the world was not worthy". (Hebrews 11)

The advent of Christianity brought marked changes in attitudes toward suicide. At first there were many suicides by early Christians, especially by martyrs who found the attraction of the promised afterlife in paradise greater than the hardships of their life on earth.

The Church could ill afford to lose so many of its supporters at that time, and a quick halt to the rash of suicides was brought about in the 4th Century A.D. when St. Augustine codified the Church's official disapproval of suicide by placing it in a moral framework and condemning it as a grievous sin. As a result, in the Middle Ages, from about the 4th to the 13th century, when the Catholic Church held great sway in Europe, suicide became practically unknown.

Thomas Aquinas, in the 13th century, further specified the Church's attitude toward suicide in his great writings about Church and God, Summa Theologica, when he condemns suicide as unnatural and a usurpation of God's power to dispose at His discretion man's life, death and resurrection. Yet even in this writing, which was to become the center of Christian doctrine, Aquinas takes his arguments from Plato and Aristotle, not from the Bible.

During the 14th and 15th centuries (Renaissance) suicide was severely condemned. This period brought rise to the industrial revolution, the incorporation of the Protestant Ethic into Anglo-Saxon culture, and the rise of Puritanism, a religious outlook that also condemned poverty as sin and unworthiness.
If our current cultural outlook on taking one's own life has condensed to 'you have to be clinically disturbed to want to take your own life' –and that may be true for clinically depressed people–is based on such a partial understanding of what Judeo-Christian thought is about the subject, then the debate about the right to self-determine our life's ending when faced with irreversible disease and deterioration takes on a different light, certainly not one of hastening one's death being a sin or condemning one's soul.
In the US we spend 80% of our healthcare resources on the last 20% of life. Although this is of course not relevant to the topic of the moral questions surrounding self-administered euthanasia, it certainly bears witness to our fear of letting natural processes take their course and our penchant for playing God on one end of the spectrum but not on the other, i.e. we will administer life-saving measures with great impunity to obviously dying people who have expressed their wish to die; but we would balk at those same dying people who want to hasten their life, either proactively or, with less resitance, passively.
It seems to me that this question needs to have some large scale dialogue in our religious institutions, as it is not going to go away, and if religious leadership isn't taking it on, the culture will struggle with it, regardless, and quite possibly find its way to a new understanding of what being treated humanely can look like.
So here is the post about 'A' and her struggle to tie up all of life's many ends and meet her death with great dignity and grace. It is not a scientific, economic or even social story. It is ultimately a human one. Douglas firs were our sanctuary.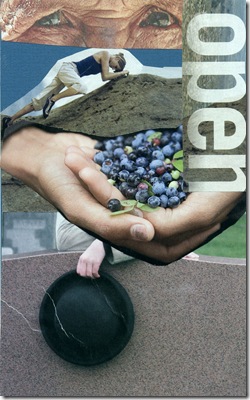 Here are other posts as they are available on this synchroblog topic:
Phil Wyman at Square No More: Clowns to the Left. Jokers to the Right. Stuck in the Middle of the Health Care Debate
K.W. Leslie at The Evening of Kent: Christian's Responsibility to Healthcare
Ellen Haroutunain: Christian Perspectives on Health Care
Steve Hayes at Khanya: Self-evident Truths and Moral Turpitude
Kimber Caldwell at Convergence: Is Health Care a Right?
Liz Dyer at Grace Rules Weblog: A Christian Perspective on Health Care Reform
Kathy Escobar at Carnival in My Head: It's Easy to be Against Health Care Reform When You Have Insurance
Susan Barnes at A Book Look: Carrying Your Own Load
]]>