Warning
: Illegal string offset 'status_txt' in
/home/virtu151/public_html/wp-content/plugins/share-and-follow/share-and-follow.php
on line
1168
Warning
: Illegal string offset 'status_txt' in
/home/virtu151/public_html/wp-content/plugins/share-and-follow/share-and-follow.php
on line
1168
Warning
: Illegal string offset 'status_txt' in
/home/virtu151/public_html/wp-content/plugins/share-and-follow/share-and-follow.php
on line
1168
Warning
: Illegal string offset 'status_txt' in
/home/virtu151/public_html/wp-content/plugins/share-and-follow/share-and-follow.php
on line
1168
Warning
: Illegal string offset 'status_txt' in
/home/virtu151/public_html/wp-content/plugins/share-and-follow/share-and-follow.php
on line
1168
Warning
: Illegal string offset 'status_txt' in
/home/virtu151/public_html/wp-content/plugins/share-and-follow/share-and-follow.php
on line
1168
Warning
: Illegal string offset 'status_txt' in
/home/virtu151/public_html/wp-content/plugins/share-and-follow/share-and-follow.php
on line
1168
Warning
: Illegal string offset 'status_txt' in
/home/virtu151/public_html/wp-content/plugins/share-and-follow/share-and-follow.php
on line
1168
<![CDATA[
I have been so dang absent from my blog, and I have to say that while feeling guilty, I don't really feel all THAT guilty! Come cool weather, I'll be back in the bloggerama saddle. Meanwhile, here's a couple of the things that have made me step back from my keyboard…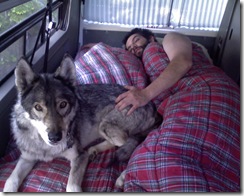 written permission to use this photo from both Andy and Geronimo is on file
Lots of camping with Geronimo and Andy, and sometimes Andy's boys, in the fab Eurovan, Estrellita. No, that's not a wolf in our bed, that's Geronimo! You might ask, where do you sleep, Beth? There's not an easy answer to that question, I'm afraid… We've been all around Central Oregon plus one trip to the coast. Also some great backpacking to the Blitzen River over by Steens Mountain. (If any of you are desert rats and haven't been over in that area, get thee hence!)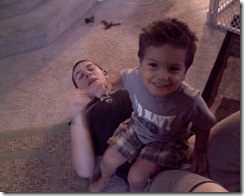 June visit to Colorado Springs to see family. Here's grandson Edan and nephew Dakota romping in my sister's home. Next grandbaby is due mid-September…yeah!
May 23rd, wildflowers are planted after natty grass is pulled up and topsoil from the landfill is brought in.
Late July, wildflowers are starting to pop. The strawberry citadel has been invaded by alien poppies-and we like this! In the first week of August all manner of yellow, orange and red California poppies have burst into song.
We used lava rock to build up a patio garden on top of an ancient brick patio. A mixture of peat, organic compost and vermiculite has these guys growing so good! Late July, vegetable garden in the front patio is beginning to explode.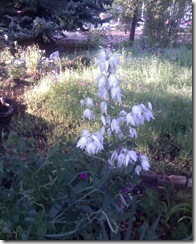 First time ever, or at least in the 4 years I've lived here, the yucca has blossomed. It must like all the wildflower company!
Patti Digh from 37 days and Life is a Verb fame visited a couple weeks ago, so that was fun, too!
And then, there's the beautiful back yard, with hammock swing, porch bed, fire pit and lots of flowers…
Of course, working at my job lots too, but averaging one day off per week. Been having a great summer–hope you are too! See more of y'all in the fall.
]]>