Warning
: Illegal string offset 'status_txt' in
/home/virtu151/public_html/wp-content/plugins/share-and-follow/share-and-follow.php
on line
1168
Warning
: Illegal string offset 'status_txt' in
/home/virtu151/public_html/wp-content/plugins/share-and-follow/share-and-follow.php
on line
1168
Warning
: Illegal string offset 'status_txt' in
/home/virtu151/public_html/wp-content/plugins/share-and-follow/share-and-follow.php
on line
1168
Warning
: Illegal string offset 'status_txt' in
/home/virtu151/public_html/wp-content/plugins/share-and-follow/share-and-follow.php
on line
1168
Warning
: Illegal string offset 'status_txt' in
/home/virtu151/public_html/wp-content/plugins/share-and-follow/share-and-follow.php
on line
1168
Warning
: Illegal string offset 'status_txt' in
/home/virtu151/public_html/wp-content/plugins/share-and-follow/share-and-follow.php
on line
1168
Warning
: Illegal string offset 'status_txt' in
/home/virtu151/public_html/wp-content/plugins/share-and-follow/share-and-follow.php
on line
1168
Warning
: Illegal string offset 'status_txt' in
/home/virtu151/public_html/wp-content/plugins/share-and-follow/share-and-follow.php
on line
1168
<![CDATA[
"I do not see this heart thing as abstract or esoteric. Getting to, living in, healing from, being guided through the heart is an actual state that can be achieved. But it is not a state of mind. It is not an attitude, or an affirmation. Rather it is a state of being. The mind is the servant of the state of being in the heart, not the master. And for this reason the mind puts of lots of barriers, resistances, and good sounding reasons why living in the heart is a bad idea. But when we arrive at the heart we know that living in that place is not in fact any kind of idea. It is home. It is the greatest pleasure that we can have, because from that place all other pleasure is magnified and dignified."
— Jonathan Goldman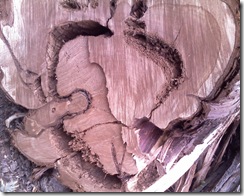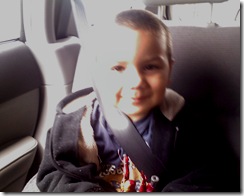 The end of a freshly cut ancient juniper.
The shining face of my grandson Edan.
My heart sees their alikeness.
I spent the past weekend in a workshop with Jonathan, author of the above quote. His staff and 15 or so of us participants leaned into 'grounded in the earth, centered in the heart, opening to the light' as our mantra for the 3.5 day workshop. Bodywork, breath work, yoga, energy balancing, ritual and deep sharing prepared us for some experiences of wide-open heart. I came away with a deeper wisdom of what that place of truest pleasure is: living from our hearts protects us from harm, guides us onto interesting paths and humbles us to our core.
The feeling of living from our hearts can not be readily described. It can only be experienced. But, to use analogy, it is like standing in the front door to your home, looking out at the courtyard, the garden, whatever pleases you, and knowing that if you walk outside you will be engulfed, entangled in beauty. You can turn around and go back inside your now-too-small house. Or you can step out, protected by the elements, loved by the stars, guided by a feeling of being home. There's no stopping you now, nothing to go back to.
The world longs for us to sing our heart-songs, plant our heart-gardens, laugh our heart-lines, scribe our heart-poems on everything. Doesn't mean it's easy. Just means it's inevitable.
]]>