Warning
: Illegal string offset 'status_txt' in
/home/virtu151/public_html/wp-content/plugins/share-and-follow/share-and-follow.php
on line
1168
Warning
: Illegal string offset 'status_txt' in
/home/virtu151/public_html/wp-content/plugins/share-and-follow/share-and-follow.php
on line
1168
Warning
: Illegal string offset 'status_txt' in
/home/virtu151/public_html/wp-content/plugins/share-and-follow/share-and-follow.php
on line
1168
Warning
: Illegal string offset 'status_txt' in
/home/virtu151/public_html/wp-content/plugins/share-and-follow/share-and-follow.php
on line
1168
Warning
: Illegal string offset 'status_txt' in
/home/virtu151/public_html/wp-content/plugins/share-and-follow/share-and-follow.php
on line
1168
Warning
: Illegal string offset 'status_txt' in
/home/virtu151/public_html/wp-content/plugins/share-and-follow/share-and-follow.php
on line
1168
Warning
: Illegal string offset 'status_txt' in
/home/virtu151/public_html/wp-content/plugins/share-and-follow/share-and-follow.php
on line
1168
Warning
: Illegal string offset 'status_txt' in
/home/virtu151/public_html/wp-content/plugins/share-and-follow/share-and-follow.php
on line
1168
<![CDATA[
I can get meta-physical with the best of them. This week's poem could be called 'let's get un-meta-physical and roll around in the dirt'.
Big bow of thanks to Gautami Tripathy of Rooted for this week's One Single Impression prompt, dropped.
I bought a lovely 1944 vintage cottage in 2004 in Bend, and have done one major project each year since. This year's task is to tear up the matty thatched grass in the postage-stamp front yard and plant wildflowers. In addition, I'm putting in a small vegetable garden in the courtyard in the square foot gardening format, although of course nothing's square in my yard and never will be.
My roommate Mo and I have both been collecting wildflower seeds for years. Miniscule but vital parts of Colorado, Nevada, Utah, Washington and other parts of Oregon have been brought to this little piece of yard in Central Oregon to see what kind of stuff they're made of. All seeds were harvested with respect and admiration for their tenacity, joy and willingness to grow in often harsh high desert conditions. The mixing of these seeds (see photo below) was a ceremony all of itself. We also used some bought seed for dryland mix, but very little.
The best therapy I know is dropping seeds in the ground. So while the world turns, and maybe wobbles, I plant.
grass to wild flowers

sore back as fertilizer

dropped grace, dirty feet as joy

Slid all worries and grief into the willing and prepared soil along with those beautiful seeds.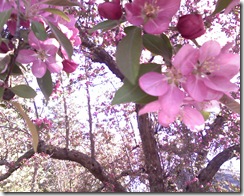 The lovely crabapple that presides over all the shenanigans.
This photo was take May 15, 2009, at the height of her annual glory-fest.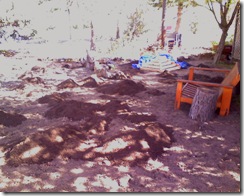 Tearing up the grass in the front yard, stirring up old dirt, piling coarse topsoil from the local landfill. Talking to the land through the entire process. You can see my new strawberry citadel in the background. May 4, 2009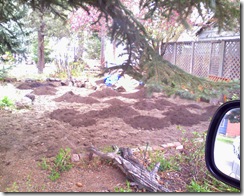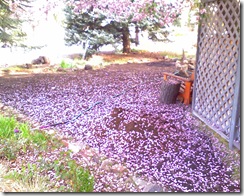 Crabapple petals falling on the newly distributed topsoil, May 10th. Little mound of local chicken manure compost in the foreground.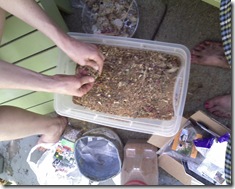 Mixing our brew of seeds, gathered over years with great anticipation of this unknown date: May 23, 2009
All planted, watered. Shady dryland mix to go under the 2 large blue spruce and sunny dryland northwest mix for the rest of the area. Now we wait–one of the 3 or 4 best parts of this process!
My feet at the end of the day, May 23.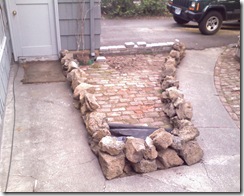 Meanwhile, also in progress, courtyard garden. Took the old brick base and built retaining wall with lava rock.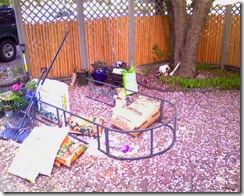 Accouterment, with pale pink crabapple petals covering everything. May 20, 2009. Soil for the vegetable garden is 1/3 vermiculite, 1/3 peat, 1/3 compost (steer, mushroom, chicken). You can see a steer skull and femur propped up against the crabapple tree base, waiting for their 'final' resting place in the design.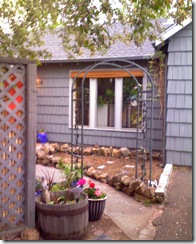 New courtyard entrance, May 23, 2009. Stay tuned to see the vegetables grow in the planter behind the arch. The new (to me) metal archway has climbing roses, Virginia creeper and Akebia vines planted around it to crawl up and over. We will be placing our substantial collection of old cured animal bones on the arch and round the entryway as well. The new name for our home is 'The House of Bones and Roses'
]]>