Warning
: Illegal string offset 'status_txt' in
/home/virtu151/public_html/wp-content/plugins/share-and-follow/share-and-follow.php
on line
1168
Warning
: Illegal string offset 'status_txt' in
/home/virtu151/public_html/wp-content/plugins/share-and-follow/share-and-follow.php
on line
1168
Warning
: Illegal string offset 'status_txt' in
/home/virtu151/public_html/wp-content/plugins/share-and-follow/share-and-follow.php
on line
1168
Warning
: Illegal string offset 'status_txt' in
/home/virtu151/public_html/wp-content/plugins/share-and-follow/share-and-follow.php
on line
1168
Warning
: Illegal string offset 'status_txt' in
/home/virtu151/public_html/wp-content/plugins/share-and-follow/share-and-follow.php
on line
1168
Warning
: Illegal string offset 'status_txt' in
/home/virtu151/public_html/wp-content/plugins/share-and-follow/share-and-follow.php
on line
1168
Warning
: Illegal string offset 'status_txt' in
/home/virtu151/public_html/wp-content/plugins/share-and-follow/share-and-follow.php
on line
1168
Warning
: Illegal string offset 'status_txt' in
/home/virtu151/public_html/wp-content/plugins/share-and-follow/share-and-follow.php
on line
1168
<![CDATA[
From the NY Times
As Colombia's war for control of the drug trade intensifies…with new combatants vying for smuggling routes and coca-growing areas where Indians eke out a meager existence, it is adding to the already grave toll on the nation's indigenous groups. At least 27 of the groups are at risk of being eliminated because of the country's four-decade conflict, according to the United Nations, and human rights organizations worry that the new violence is pushing even deeper into the Indians' ancient lands. Here's the rest of the story Wider Drug War Threatens Colombian Indians – NYTimes.com
I woke to this story this morning, and the image from a dream soul collage card that I posted about awhile back, called 'come out of hiding for tea, please' was burning my heart. Part of the learning from this dream was about my responsibility to show up:
1) for those indigenous parts of me that are terrorized, disenfranchised by living in western culture and
2) and acknowledge my often subtle co-opting part in the devastation of the natural world around me and
3) as a measured, well-versed advocate for the indigenous life around me–whether it's plants, animals or human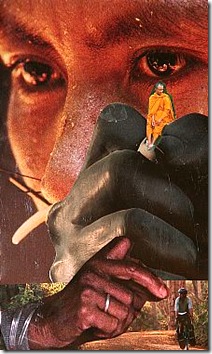 As I was ruminating about all this, I noticed also in my email this morning was a piece about the annual Goldman Environmental Awards, which were awarded in ceremony on Monday evening, April 20th in San Francisco.
The Goldman Environmental Prize
Grassroots environmental heroes too often go unrecognized. Yet their efforts to protect the world's natural resources are increasingly critical to the well-being of the planet we all share. Thus, in 1990 San Francisco civic leaders and philanthropists Richard N. Goldman and his late wife, Rhoda H. Goldman (1924-1996) created the Goldman Environmental Prize. The Goldman Prize continues today with its original mission to annually honor grassroots environmental heroes from the six inhabited continental regions: Africa, Asia, Europe, Islands and Island Nations, North America, and South and Central America. The Prize recognizes individuals for sustained and significant efforts to protect and enhance the natural environment, often at great personal risk. Each winner receives an award of $150,000, the largest award in the world for grassroots environmentalists. The Goldman Prize views "grassroots" leaders as those involved in local efforts, where positive change is created through community or citizen participation in the issues that affect them. Through recognizing these individual leaders, the Prize seeks to inspire other ordinary people to take extraordinary actions to protect the natural world.
A stunning Google Earth video tour of the 2009 awardees' grassroots work, narrated by Robert Redford: Awardees' Tour
Suddenly, I shook myself further awake, as if from a dream within a dream. Here, again, same-old/same-old, is the answer to that wound-around-my-own-axle question of 'oh me or my what can little old I do?' … 'do what's in front of me…no need to travel far, do great things, just show up, stay grounded, stay the course–take care of your own back-and front yard!'
What does 'staying the course' to make a difference in your world look like?
'Never forget that a small group of committed individuals can change the world. Indeed, it is the only thing that ever has.'
]]>