Warning
: Illegal string offset 'status_txt' in
/home/virtu151/public_html/wp-content/plugins/share-and-follow/share-and-follow.php
on line
1168
Warning
: Illegal string offset 'status_txt' in
/home/virtu151/public_html/wp-content/plugins/share-and-follow/share-and-follow.php
on line
1168
Warning
: Illegal string offset 'status_txt' in
/home/virtu151/public_html/wp-content/plugins/share-and-follow/share-and-follow.php
on line
1168
Warning
: Illegal string offset 'status_txt' in
/home/virtu151/public_html/wp-content/plugins/share-and-follow/share-and-follow.php
on line
1168
Warning
: Illegal string offset 'status_txt' in
/home/virtu151/public_html/wp-content/plugins/share-and-follow/share-and-follow.php
on line
1168
Warning
: Illegal string offset 'status_txt' in
/home/virtu151/public_html/wp-content/plugins/share-and-follow/share-and-follow.php
on line
1168
Warning
: Illegal string offset 'status_txt' in
/home/virtu151/public_html/wp-content/plugins/share-and-follow/share-and-follow.php
on line
1168
Warning
: Illegal string offset 'status_txt' in
/home/virtu151/public_html/wp-content/plugins/share-and-follow/share-and-follow.php
on line
1168
<![CDATA[
when someone says
'may I have a word with you?'
you know they don't mean it
what can we possibly say in one word?
and for that matter
what might have been the word that
the grieving parent implored the Christ to say:
'just one word from you and my daughter will be healed'
My mind wanders to one word
that if I became deaf
I would most miss hearing.
Most words are superfluous, but sounds may not be.
The sound of children's laughter is hard to find words for
and just may be irreplaceable in the language of the heart.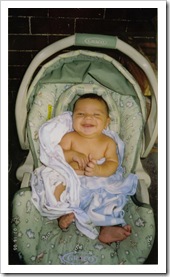 My grandson, Edan, at 4 months. I spent last week with him in Denver. As he turns 4 years old next month, I can't imagine anything more joyful than laughing with him with great abandon and–thank all the gods and goddesses as well as all the tea in China–without reason!
This poem is a submission to One Single Impression prompt: one word Thanks to Jess of Wayfaring Wanderer for the sweet prompt! Click on the link above to visit a plethora, a plentitude, a party of other poets' sites from around the world, all writing about this single prompt.
One Single Impression is a community of poets writing and sharing haiku and other poetic forms. Each week new prompts are offered up to our often-lazy muses.
]]>