Warning
: Illegal string offset 'status_txt' in
/home/virtu151/public_html/wp-content/plugins/share-and-follow/share-and-follow.php
on line
1168
Warning
: Illegal string offset 'status_txt' in
/home/virtu151/public_html/wp-content/plugins/share-and-follow/share-and-follow.php
on line
1168
Warning
: Illegal string offset 'status_txt' in
/home/virtu151/public_html/wp-content/plugins/share-and-follow/share-and-follow.php
on line
1168
Warning
: Illegal string offset 'status_txt' in
/home/virtu151/public_html/wp-content/plugins/share-and-follow/share-and-follow.php
on line
1168
Warning
: Illegal string offset 'status_txt' in
/home/virtu151/public_html/wp-content/plugins/share-and-follow/share-and-follow.php
on line
1168
Warning
: Illegal string offset 'status_txt' in
/home/virtu151/public_html/wp-content/plugins/share-and-follow/share-and-follow.php
on line
1168
Warning
: Illegal string offset 'status_txt' in
/home/virtu151/public_html/wp-content/plugins/share-and-follow/share-and-follow.php
on line
1168
Warning
: Illegal string offset 'status_txt' in
/home/virtu151/public_html/wp-content/plugins/share-and-follow/share-and-follow.php
on line
1168
<![CDATA[
29 gifts in 29 days…give them away and find some peace, already. And we're not just talking about material stuff.
Not only do we have too much stuff, we are way too protective of it.  There's indigenous wisdom in the 'give away'.  A recent article on Tonic about a movement that started from an encounter with Cami Walker's spiritual teacher Mbali Creazzo highlights the underlying principles involved in giving it all away.
"She very bluntly interrupted my whining that day and said, 'I think you need to stop thinking about yourself.' And I was like, 'Okay!' And that's when she gave me the suggestion to give away 29 gifts in 29 days," explains Cami.
But like any good self-pitying gal, Cami stewed a little longer. "It took me a month or two before I actually decided to do it. Things got worse and I finally got desperate to the point where I was like, 'I'm just gonna try this; it can't hurt me,'" she said.  Read the rest of the story here: News Article on Tonic.com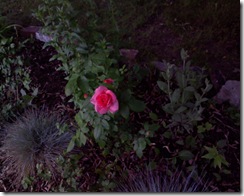 ]]>