Warning
: Illegal string offset 'status_txt' in
/home/virtu151/public_html/wp-content/plugins/share-and-follow/share-and-follow.php
on line
1168
Warning
: Illegal string offset 'status_txt' in
/home/virtu151/public_html/wp-content/plugins/share-and-follow/share-and-follow.php
on line
1168
Warning
: Illegal string offset 'status_txt' in
/home/virtu151/public_html/wp-content/plugins/share-and-follow/share-and-follow.php
on line
1168
Warning
: Illegal string offset 'status_txt' in
/home/virtu151/public_html/wp-content/plugins/share-and-follow/share-and-follow.php
on line
1168
Warning
: Illegal string offset 'status_txt' in
/home/virtu151/public_html/wp-content/plugins/share-and-follow/share-and-follow.php
on line
1168
Warning
: Illegal string offset 'status_txt' in
/home/virtu151/public_html/wp-content/plugins/share-and-follow/share-and-follow.php
on line
1168
Warning
: Illegal string offset 'status_txt' in
/home/virtu151/public_html/wp-content/plugins/share-and-follow/share-and-follow.php
on line
1168
Warning
: Illegal string offset 'status_txt' in
/home/virtu151/public_html/wp-content/plugins/share-and-follow/share-and-follow.php
on line
1168
<![CDATA[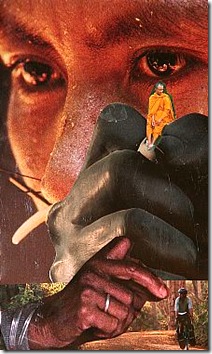 'He who watches', 2008
One of the outlets for my creativity right now is doing Soul Collage cards. My dream circle has been using this venue lately to help us open our dreams ever-further.
I just did this card in January 09, but it came out of a dream that has stayed with me since 2003. The setting: I was getting ready for an interview, that if I got and took the job (which all did happen) meant I would need to leave my husband, Tom in beloved western Colorado and move to Bend, Oregon. I needed to leave as I was dying inside.
Long before the idea of the Virtual Tea House came in conscious form, this dream came and still speaks to me on many levels.
8/19/03

Dream title:Africa awakens

Tom and I are driving around Africa. There are all these places where villages or communities were in the recent past. Now they are decimated by intra- or inter- tribal warfare. I am afraid I'm going to be attacked by both sides, even though I'm not aligned with either. Then Tom is gone and I've picked one of the spots to start to clean it up. There are dead bodies, badly decomposed to the point of no smell, everywhere. There is a shell of a building. I start to work. There are no people around–it's clear they are all in hiding, waiting to see what is going to happen, and what this white honky woman is up to.

Next scene: I've built a restaurant/bar/dance floor/tea house, but no walls! Still the burnt-out structure, which I'm rebuilding, has no walls, but it has a roof! Slowly, hesitantly, people are coming out of the bush, out of hiding and coming back to the communal building I am working on. I'm busy, happy, building trust with each board.
The Soul Collage card flowing from this dream speaks to the oppression of not just external but internal forces. The Buddhist monk came out of nowhere to sit on the hand of violence, swinging his feet. The eyes of the indigenous person watch it all. The hand of the one who knows is pointing to the little sense of 'me' riding a bicycle, if not blithely, then at least 'whistling in the graveyard'. That hand is saying, not-unkindly, 'You have a job to do. Get with it. The people want some tea.'
There are tunnels to dig into this dream that haven't yet been 'dreamed of'…but this is a start!
]]>