Warning
: Illegal string offset 'status_txt' in
/home/virtu151/public_html/wp-content/plugins/share-and-follow/share-and-follow.php
on line
1168
Warning
: Illegal string offset 'status_txt' in
/home/virtu151/public_html/wp-content/plugins/share-and-follow/share-and-follow.php
on line
1168
Warning
: Illegal string offset 'status_txt' in
/home/virtu151/public_html/wp-content/plugins/share-and-follow/share-and-follow.php
on line
1168
Warning
: Illegal string offset 'status_txt' in
/home/virtu151/public_html/wp-content/plugins/share-and-follow/share-and-follow.php
on line
1168
Warning
: Illegal string offset 'status_txt' in
/home/virtu151/public_html/wp-content/plugins/share-and-follow/share-and-follow.php
on line
1168
Warning
: Illegal string offset 'status_txt' in
/home/virtu151/public_html/wp-content/plugins/share-and-follow/share-and-follow.php
on line
1168
Warning
: Illegal string offset 'status_txt' in
/home/virtu151/public_html/wp-content/plugins/share-and-follow/share-and-follow.php
on line
1168
Warning
: Illegal string offset 'status_txt' in
/home/virtu151/public_html/wp-content/plugins/share-and-follow/share-and-follow.php
on line
1168
<![CDATA[
The coming two weeks honor the death of my paternal grandmother, Mildred (Millie) on March 18, 1989. She was 96. It also honors the death of my mother, Agnes (Aggie Ginny Shinny) on March 23, 1978 at the age of 58 and my father Richard (Pat) on March 26, 1987 at the age of 69. For many years as March rolls around, I've had this vague dis-ease, even if I didn't realize why. For the last couple years, as I've written here on the VTH, this dis-ease is giving way to something more expansive. However, even if my mind forgets, my body always re-members these beloveds during this time of year.
They live anew in me– who am I in relationship with them? They again have new, shiny flesh on their bones and vitality in their steps. They speak to me in dreams and I hear whispers of the words they never knew I heard. The veil is thin for me during this time of year, as it is for the collective during All Hallow's E'en and the end of each year/beginning of the new. 'Afterwhile' is more often present with me these days.
Truth is, I'm better at re-membering my ancestors than at saying fare-thee-well. And this, after 20 years of hospice work. Ah, the humanity.
On the 29th anniversary of my mother's death, March 2007
On the 30th anniversary of my mother's death, March 2008
Never good at
saying good-bye
sharp intake of breath
see you later, alligator
Turning away
eking out held breath
heavy hearted tears sting
throat fills
afterwhile, crocodile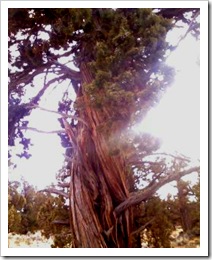 When she turned 90 and for the next 13 years
when leaving maternal Grandma Verna's home
I always knew it could be, might be, the last time.
At her age 103 and my age 46
the day before she laid down her weary body
she asked me audibly but garbled on my cell phone,
'Where are you, Beth? You said you'd be here
when it was my time.'
'I know Grandma. I can't be there now. But
I whisper good-bye knowing that you live in the wind and the trees
in the first spring flowers.
I will hear your voice, feel your hand on my head
through the rest of my days.
My truest prayer is that I can be half as good a grandma
to any kids that come my way as you have been to me.'
As I'd said many times before when leaving…
'See you later alligator'.
To which she whispered, 'Afterwhile, crocodile.'
Submission for this week's One Single Impression prompt: farewells Click on this link to visit many other writers' sites from around the world, all writing about this single prompt!
One Single Impression is a community of poets writing and sharing haiku and other poetic forms. Each week new prompts are offered up to our often lazy muses. Come play with us!
]]>