Warning
: Illegal string offset 'status_txt' in
/home/virtu151/public_html/wp-content/plugins/share-and-follow/share-and-follow.php
on line
1168
Warning
: Illegal string offset 'status_txt' in
/home/virtu151/public_html/wp-content/plugins/share-and-follow/share-and-follow.php
on line
1168
Warning
: Illegal string offset 'status_txt' in
/home/virtu151/public_html/wp-content/plugins/share-and-follow/share-and-follow.php
on line
1168
Warning
: Illegal string offset 'status_txt' in
/home/virtu151/public_html/wp-content/plugins/share-and-follow/share-and-follow.php
on line
1168
Warning
: Illegal string offset 'status_txt' in
/home/virtu151/public_html/wp-content/plugins/share-and-follow/share-and-follow.php
on line
1168
Warning
: Illegal string offset 'status_txt' in
/home/virtu151/public_html/wp-content/plugins/share-and-follow/share-and-follow.php
on line
1168
Warning
: Illegal string offset 'status_txt' in
/home/virtu151/public_html/wp-content/plugins/share-and-follow/share-and-follow.php
on line
1168
Warning
: Illegal string offset 'status_txt' in
/home/virtu151/public_html/wp-content/plugins/share-and-follow/share-and-follow.php
on line
1168
<![CDATA[
Since Mother Teresa's death in 1997 she continues to inspire us to grow spiritually. With the publication of Come Be my Light in 2007 her life of faith has taken on new layers of depth and meaning.
She was revered throughout the world during her lifetime for her absolute dedication to seeing the face of Jesus in all she encountered–mostly the poor, sick and the dying. However, her personal spiritual experience was devoid of the feel-goods that drive most of us towards meditation, prayer and service. It is hard to fathom her unwavering commitment to a faith from which her own heart rarely felt warmed.
The following article was published in TIME in 2007, after the release Come Be My Light, a book of Mother Teresa's writings, compiled and edited by her friend and mentor Father Brian Kilodiejchuk.
From Amazon's review:
Kilodiejchuk assembles a startling and impressive collection of her writings, most of which have never been seen by the public. Two themes especially shine through in Mother Teresa's letters, namely, her absolute conviction that she was doing God's will, and a deep and surprising chasm of darkness within her that some would call the dark night of the soul. Kolodiejchuk is at times a bit presumptive in his interpretations of Teresa's letters, as no one can say for certain what was in her mind and heart at all times. What we do know, in part thanks to this volume, is that Mother Teresa's vocation to care for the poorest of the poor will continue to inspire people for generations.
I have read the book and it moved me to the core to get up off my lazy spiritual *** and get on with it. Mother Teresa was no pushover, no polite demuring woman. She was strong, vital and a mighty opponent to those who give no credence to what it means to live in poverty of any type.
Mother Teresa was a ' startling portrait in self-contradiction…one of the great human icons of the past 100 years, whose remarkable deeds seemed inextricably connected to her closeness to God and who was routinely observed in silent and seemingly peaceful prayer by her associates as well as the television camera, was living out a very different spiritual reality privately, an arid landscape from which the deity had disappeared.'
Click here to read the rest of this TIME article: Mother Teresa's Crisis of Faith – TIME
She stands as a beacon to many of us as we struggle to move beyond the vagaries…and addiction…of most human emotions; to stand before life naked and claim that we lived it, full on, head into the wind. While I do not ascribe to much of her theology, I do ascribe to live my life, even in the depth of despair, as she did.
Here is one of Mother Teresa's prayers that I pray almost everyday. She prayed it to Jesus, I pray it to the Christ that we all embody.
Deliver me…

From the desire of being loved

From the desire of being extolled

From the desire to being honored

From the desire of being praised

From the desire of being preferred

From the desire of being consulted

From the desire of being approved

From the desire of being popular

From the fear of being humiliated

From the fear of being despised

From the fear of suffering rebukes

From the fear of being calumniated

From the fear of being forgotten

From the fear of being wronged

From the fear of being ridiculed

From the fear of being suspected.

Amen.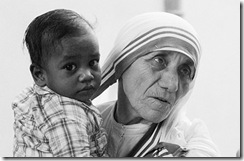 Mother Teresa in a Calcutta Orphanage, 1979
]]>