Warning
: Illegal string offset 'status_txt' in
/home/virtu151/public_html/wp-content/plugins/share-and-follow/share-and-follow.php
on line
1168
Warning
: Illegal string offset 'status_txt' in
/home/virtu151/public_html/wp-content/plugins/share-and-follow/share-and-follow.php
on line
1168
Warning
: Illegal string offset 'status_txt' in
/home/virtu151/public_html/wp-content/plugins/share-and-follow/share-and-follow.php
on line
1168
Warning
: Illegal string offset 'status_txt' in
/home/virtu151/public_html/wp-content/plugins/share-and-follow/share-and-follow.php
on line
1168
Warning
: Illegal string offset 'status_txt' in
/home/virtu151/public_html/wp-content/plugins/share-and-follow/share-and-follow.php
on line
1168
Warning
: Illegal string offset 'status_txt' in
/home/virtu151/public_html/wp-content/plugins/share-and-follow/share-and-follow.php
on line
1168
Warning
: Illegal string offset 'status_txt' in
/home/virtu151/public_html/wp-content/plugins/share-and-follow/share-and-follow.php
on line
1168
Warning
: Illegal string offset 'status_txt' in
/home/virtu151/public_html/wp-content/plugins/share-and-follow/share-and-follow.php
on line
1168
<![CDATA[
"…and I
I took the road more traveled by
and that has made all the difference."
—A bold-faced re-frame of the last phrase of Robert Frost's profound poem, 'The Road Not Taken'
Many crave respect, admiration, love.
Few care less.
I prefer the road more traveled.
Except for some days.
A spiritual teacher of mine who has written many books and translations of those books,
teaches endless workshops, and exhibits magnificent patience with students,
when asked how he accomplishes so much seemingly without effort said:
"Resistance and judgment are what sap our energy.
Remove resistance and we sleep less,
wake refreshed, energy is high and needs are minimal."
Give up judgment? Not resist?
Not care about what others think, nor about outcomes of actions taken?
The wide and spacious path seems ever more
comfortably numb.
"I weep for the world I've helped to create. A world in which I allow my intelligence and goodwill to be constantly subverted by my pursuit of comfort and pleasure." —Thomas King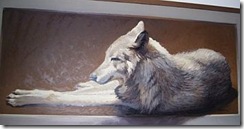 Painting of a a wolf in repose. No resistance. Life on life's terms.
Submission for this week's One Single Impression prompt: fork in the road
One Single Impression is a community of poets writing and sharing haiku and other poetic forms. Each week new prompts are offered up to our often lazy muses. Come play with us!
]]>