Warning
: Illegal string offset 'status_txt' in
/home/virtu151/public_html/wp-content/plugins/share-and-follow/share-and-follow.php
on line
1168
Warning
: Illegal string offset 'status_txt' in
/home/virtu151/public_html/wp-content/plugins/share-and-follow/share-and-follow.php
on line
1168
Warning
: Illegal string offset 'status_txt' in
/home/virtu151/public_html/wp-content/plugins/share-and-follow/share-and-follow.php
on line
1168
Warning
: Illegal string offset 'status_txt' in
/home/virtu151/public_html/wp-content/plugins/share-and-follow/share-and-follow.php
on line
1168
Warning
: Illegal string offset 'status_txt' in
/home/virtu151/public_html/wp-content/plugins/share-and-follow/share-and-follow.php
on line
1168
Warning
: Illegal string offset 'status_txt' in
/home/virtu151/public_html/wp-content/plugins/share-and-follow/share-and-follow.php
on line
1168
Warning
: Illegal string offset 'status_txt' in
/home/virtu151/public_html/wp-content/plugins/share-and-follow/share-and-follow.php
on line
1168
Warning
: Illegal string offset 'status_txt' in
/home/virtu151/public_html/wp-content/plugins/share-and-follow/share-and-follow.php
on line
1168
<![CDATA[
These works of art and obvious love will amaze you. The page loads oddly on my laptop–you have to scroll left/right to see the whole page, but it's worth the effort. Thanks to Michelle Meech, a blogger on the Virtual Tea House, for sending the link to us.
Members of Quilters of South Carolina have created one-of-a-kind bras for Breast Cancer Awareness. The exhibit consists of fifty original works of art which are unique, entertaining, humorous, and beautiful to make the public aware of breast cancer, to memorialize those lost to the disease, and to honor survivors.

This exhibit will tour SC until Oct '09 at which time individual Artfull Bras will be auctioned and the proceeds donated to the Best Chance Network, a program to provide care and treatment of uninsured women across the state who are diagnosed with breast and cervical cancer.

The bras come prepared for display on their own hangers and are available for exhibit across the state of South Carolina. The exhibit is available until October of 2009. If you are interested in delighting and inspiring your organization membership, contact Sandra Baker, president of QSC at Sandra25@bellsouth.net
Here are two images, just to get you over to their page! Great sweetness, fun and poignancy here…Every state should be doing something like this. Please feel free to pass this link on to anyone who's life has been touched by breast cancer.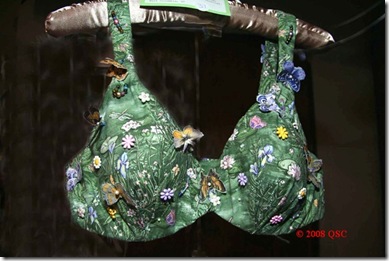 New Life– Anne Addy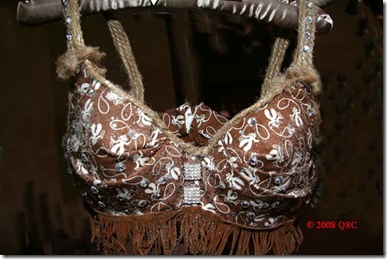 Rhinestone Cowgirl–Karen Alstadt
]]>