Warning
: Illegal string offset 'status_txt' in
/home/virtu151/public_html/wp-content/plugins/share-and-follow/share-and-follow.php
on line
1168
Warning
: Illegal string offset 'status_txt' in
/home/virtu151/public_html/wp-content/plugins/share-and-follow/share-and-follow.php
on line
1168
Warning
: Illegal string offset 'status_txt' in
/home/virtu151/public_html/wp-content/plugins/share-and-follow/share-and-follow.php
on line
1168
Warning
: Illegal string offset 'status_txt' in
/home/virtu151/public_html/wp-content/plugins/share-and-follow/share-and-follow.php
on line
1168
Warning
: Illegal string offset 'status_txt' in
/home/virtu151/public_html/wp-content/plugins/share-and-follow/share-and-follow.php
on line
1168
Warning
: Illegal string offset 'status_txt' in
/home/virtu151/public_html/wp-content/plugins/share-and-follow/share-and-follow.php
on line
1168
Warning
: Illegal string offset 'status_txt' in
/home/virtu151/public_html/wp-content/plugins/share-and-follow/share-and-follow.php
on line
1168
Warning
: Illegal string offset 'status_txt' in
/home/virtu151/public_html/wp-content/plugins/share-and-follow/share-and-follow.php
on line
1168
<![CDATA[
'Stay awake, friends. Don't scatter and sleep. Our friendship is made of staying awake.' –Rumi
Most North Americans think food shortages or famine are something that only happen in Africa and Asia. How could such catastrophe happen to us? Easy.
What with the drought in California's Central Valley (see Drought Adds to Hardships in California), add a couple other natural disasters, stir the economic chaos in which we are already embroiled (with one in ten homes in the US either in foreclosure or behind in payments), and fold in double digit unemployment…and the recipe for food shortages up to a full scale famine is complete. We could potentially not have food to purchase even if we had money to do so. As deflation swings towards inflation of food cost (supply and demand) there may be even in these depressed times, less food than money. The picture in the New York Times article cited above breaks my heart–people who not long ago were the planters and harvesters now in line for food handouts. It's a chilling photograph.
I'm not saying this is going to happen. I'm just saying that standing back to see the changes in climate, an increase in natural disasters, food-growing regions being either in drought or drowned…it's almost surely going to happen, if not this year, then soon. And of course, it has never been that there's not enough food to go around, it's how the distribution is controlled.
Photo credit: NASA/Jet Propulsion Laboratory-CalTech
Put 'potential famine for North America' in your search engine. You'll get some trash, but a few well-written articles and blogs that are putting it out there as clearly as possible: we're headed for a famine, and possibly in 2009. There are many writers writing entire books about these issues and saying this far more eloquently than I. I'm not deeply immersed in the literature. I'm just coming from what my heart and gut tell me: we need to hunker down. Further down than we are.
To understand the depth of the food Catastrophe that faces the world this year, consider the graphic below depicting countries by USD value of their agricultural output, as of 2006.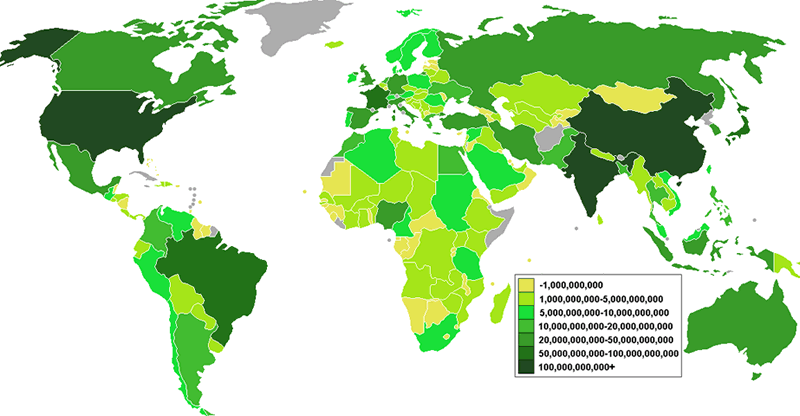 Now, consider the same graphic with the countries currently experiencing droughts highlighted.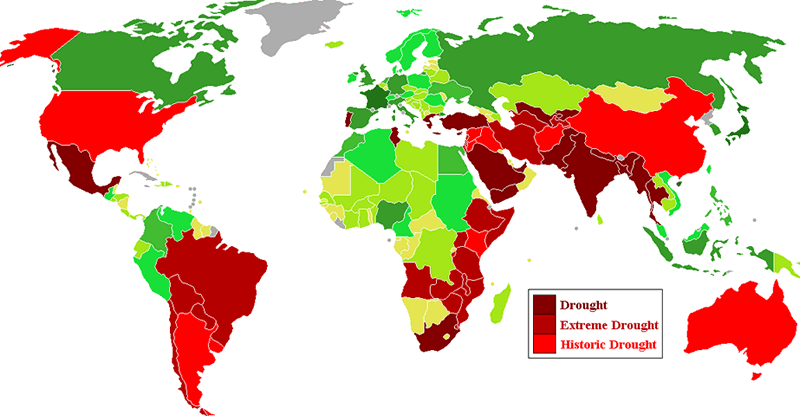 Reposted from 'Catastropic Fall in 2009 Global Food Production'
Many things are not going to return to normal, even if economic stabilization were to magically occur in the next two years. Some of the factors for the collapse we're living in right now are ushering in permanent structural changes in our economic, political and market systems. We can be thankful or regretful. Pensive or elated. None of this matters. Large scale change is upon us. What the New York Times relates as 'disastrous' to the Japanese economy–which has not returned post crash to its free-spending ways–sounds pretty hopeful to me.
What can we do?
Begin to plant mini gardens or regular ones in your yards. Raised beds are particularly efficient and a great place to start.
Band together with others to make gardening, canning, etc. a priority.
Band together to raise homegrown livestock.
Support your local farmers' market.
Support local agriculture of all kinds, with emphasis on selling the products locally.
Figure out who in your communities has the capacity and tools to do what.
Explore alternate sources of water.
Walk and ride your bikes. You'll see different things–like other neighborhood small gardens that you can help support/get involved with.
Support your local artists–they will be ahead of the rest of the population in showing us what's coming down.
Talk to each other. Don't just commiserate or sit in your homes isolated and fearful. Stay flexible and know that the solutions are not in any structure that we currently adhere to.
Make a plan.
Even if none of this happens, you'll have a more thriving and vital community, with benefits all of its own.
I'm sure there are many other things 'to do'. I'd love to hear about them.
Thanks to Dave Pollard for a recent post on How to Save the World that gave me the impetus to write this post.
I sure hope I'm wrong about all this. If you think I'm full of hooey–which I could quite possibly be–you can resort to the International Journal of Inactivism for a some great satire on the matters at hand.
I'm sure you're going to get sick of hearing about these issues, if you're not already. Do what you must, but don't shut the message out: take action, get your community activated, make a plan.
]]>