Warning
: Illegal string offset 'status_txt' in
/home/virtu151/public_html/wp-content/plugins/share-and-follow/share-and-follow.php
on line
1168
Warning
: Illegal string offset 'status_txt' in
/home/virtu151/public_html/wp-content/plugins/share-and-follow/share-and-follow.php
on line
1168
Warning
: Illegal string offset 'status_txt' in
/home/virtu151/public_html/wp-content/plugins/share-and-follow/share-and-follow.php
on line
1168
Warning
: Illegal string offset 'status_txt' in
/home/virtu151/public_html/wp-content/plugins/share-and-follow/share-and-follow.php
on line
1168
Warning
: Illegal string offset 'status_txt' in
/home/virtu151/public_html/wp-content/plugins/share-and-follow/share-and-follow.php
on line
1168
Warning
: Illegal string offset 'status_txt' in
/home/virtu151/public_html/wp-content/plugins/share-and-follow/share-and-follow.php
on line
1168
Warning
: Illegal string offset 'status_txt' in
/home/virtu151/public_html/wp-content/plugins/share-and-follow/share-and-follow.php
on line
1168
Warning
: Illegal string offset 'status_txt' in
/home/virtu151/public_html/wp-content/plugins/share-and-follow/share-and-follow.php
on line
1168
<![CDATA[
Dear Teahouse Community,
Beth asked me to post my holiday letter, so here it is. This virtual world is still vastly uncharted territory for me, so I don't get into it as often as I'd like to — there is so much actual territory I'm responsible for… I don't see how y'all do it all. 
Dear Friends and Family,
It seems silly to suggest that I am writing an annual holiday letter, since I haven't written one for years. I'd like to catch you up on the past year, but what a daunting prospect, since I have years to catch up on… and I fear that if I begin to write I will never stop. You will never get the letter, and I will be found months from now dessicated from lack of food and drink, mummified over my keyboard, an unfinished 27,000 page Christmas letter choking my hard drive… but, because it is 20℉ outside and the snow is a foot deep, and I would like to connect, I will set myself to trying to summarize the past year.
2008 started hard. My beloved 16-year-old Mocha dog who had suffered chronic renal failure for the past two years finally declined to the point that I had to have her put down. Dr. Vincent came out to the house one Sunday morning in early January. A couple of hours later some friends came over, and we buried Mocha in a hole in the frozen garden along with Michael's cat Luna who had died the day before. I had bought a bunch of bags of garden dirt the week before since everything was frozen and under snow. We stood around the grave dripping blue candles onto the snow as more flakes fell, and remembered those fine animals and all the joy and beauty they had brought to our lives. It speaks to Mocha's exquisite nature that half a dozen humans attended her funeral…
Before any time at all passed, in early February, I took the remaining dogs Brick and Raven off in the Mothership on a journey east to visit friends and family, and to pick up a new puppy, who was born the end of January. We managed to weave between storms the entire five week trip, enjoying ideal driving conditions, camping in some lovely state parks across the south and the east coast. Among the favorites were Copper Breaks SP and Atlanta SP in northern Texas, Clarko SP in Mississippi… I also ate the best donuts ever at a Southern Maid shop north of Shreveport. Three generations of women worked the little slice of a shop, the mother in back pouring bags of flour into the giant mixer, grandmother in the middle dipping racks in and out of hot oil and drizzling glaze, and daughter at the register, where a line of people backed up to the door buying donuts as fast as the women could make them. I asked if they had chocolate, and the elder said "Ah ken chocolate yew some."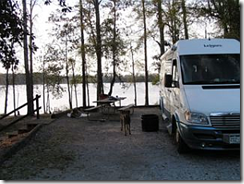 The Mothership is a great way to travel. I prepared a week's worth of meals, including vegan stuffed shells with red sauce, and chili con carne, and froze them in small tupperwares, and filled the fridge with bean salad, mashed potatos, juices and sodas. Driving six to eight hours a day, I stopped only to fuel the tank and to walk the dogs at various parks and wildlife refuges along the way, and pulled into some fine state park well before dark each day to enjoy a gin and tonic and a homemade, healthful meal. It turns out I prefer to be a hermit even when I'm on the road. I arrived in Brooksville, Florida to make the acquaintance of the new puppy, who was then two weeks old, then made a quick turn north, visiting friends in north Florida and cousins in North Carolina on the way to see my father, friends, aunt and uncle in Virginia. The Colonel got on very well with the dogs, though he did describe Raven as "downright primal" in her play with Debbie's little dog Banjo. I guess he said that because Raven chased Banjo around the room and when Banjo leapt onto dad's lap to escape, Raven followed her… In quieter moments, though, they enjoyed watching television together…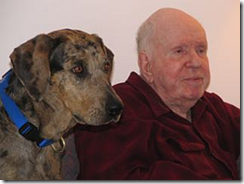 Come March, I spent a week getting to know young Stellar, and thoroughly enjoying the hospitality and the weather at Dog World in Florida. Back home snow continued to drift over my driveway making difficult access for the caring friends tending the cats and tortoises. Did I mention that in January I missed yoga three weeks in a row because I was snowed in for three or four days each week?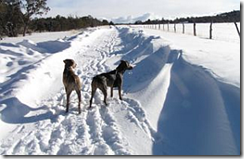 So it's no wonder that sitting under the sugarberry tree just leafing out, relaxing with Chris and Dave, basking in the sun like a lizard, felt terrific. And, there were puppies! Stellar and his sister Moon grew more adventurous by the day, and soon made the acquaintance of all their older relations, including big sister Raven and grumpy Uncle Brick.
Soon enough, though, I was retracing my route through the hospitable state parks with the little black and grey puppy, who trotted at my heels every time I took him out for a pee break, and cried like he was dying every time I put him back in the crate, then fell quietly asleep within five minutes. He's been such an agreeable little dog all along.
By April, most of the snow had melted and the garden was beginning to green. Weeds sprouted and I pulled them. The little dog started learning the lay of the land, delighting in his big sister's constant attention, yet seeking companionship with the alpha male, who did not like him and tried to pretend he wasn't there. I knew there would be trouble between them eventually, but hoped they would learn to play together, and for now was glad whenever Brick let the puppy get close to him.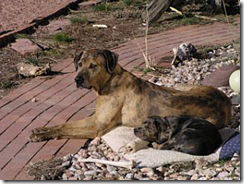 In May, a botanist came to take samples of Thelypodiopsis juniperorum, a rare native mustard that some years grows in profusion in the old-growth juniper forest where we live. May is the best month for forest wildflowers here, and they grow in all colors of purple, pink, yellow, cream, blue, red and orange, peeking up delicately from the brown forest floor among the sagebrush, lacy topped native grasses, shred-barked juniper trees, and fallen silver pinyons.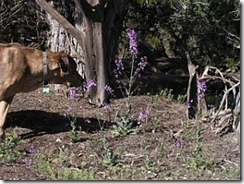 The puppy continued to grow, gaining an average of ten pounds a month. He was initially cautious about going quite to the edge of the canyon on our daily jaunts, which was probably a good thing. In June while I was irrigating my neighbor's field, the farmer next door commented "The puppy still hasn't got his coordination yet, has he?" Well, it was true. But around the same time he began venturing to the edge regularly, and by now of course he runs everwhere, but remarkably, for a young male catahoula, he comes every time I call, right away.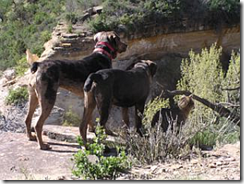 Late June is also the time that the garden peaks in its fullness of bloom. The penstemons are all going off on their tall spikes like pastel fireworks, cornflowers, gallardia, prince's plume, salvia, elderberry and so many others are busily proclaiming to the insect world their availability and delighting human senses. Every day in summer I work hours in the garden, pulling weeds, tending soil and soul, planting, moving rocks and plants, fine tuning the beauty that runs rampant through the yard.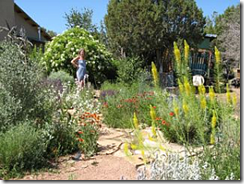 By July the amusement park of my life was in full swing. I was going to say the rollercoaster, but it felt like so much more than a rollercoaster. Like lots of rides, one after the other, the rest of the summer was a whirlwind. Cousin Melinda came from Kentucky to play, and having finished all essential garden and work projects prior to her arrival I took a vacation too. We took lots of walks in the woods, took a breakfast picnic to the Black Canyon, poked around the antique stores in town, harvested the first onions, and with little Suzi sampled the local wineries one long, slow day, and went cherry picking on the Fourth of July.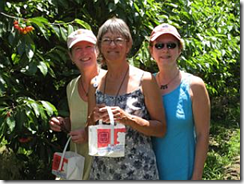 Lots of snow last winter (remember the driveway) kept the irrigation ditches running the whole summer. Sometimes hay farmers up here on Fruitland Mesa only get three weeks or six weeks of water if there's not enough snowmelt to fill the reservoirs. This year people got two or three cuttings of hay from July into September. My house is the tiny green pointy roof in the very center of this photo: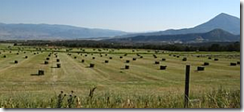 But the most important thing that happened here in July was this: Melinda and I had walked down to the canyon with the dogs, and she had urged me to take a tripod because we were trying to get some film of the fledgling redtail hawks we'd been watching all week taking their short ragged flights from tree to tree. So I had the camera set up and instead of hawks I ended up filming two mountain lions. I had been waiting fifteen years to catch one fleeting glimpse of a mountain lion, and on this remarkable day we saw two, and we had the camera on the tripod. If you'd like to read a full account of this adventure, and some other things I've written, you can go to my blog on the Virtual Tea House.  
I also posted video of the lions, and a fledgling redtail, and the hummingbirds we watched hatch and grow, on youtube. To see the lions you can click here.
The big project for July into August was the creation of the new pond, adjacent to, fed by, the original little pond at the north end of the garden. The neighbor for whom I was irrigating owed me, had offered to trade my work digging little ditches all over his field for his work digging me a new pond. It took him eight days of hard work, but it was a magnificent hole in the ground: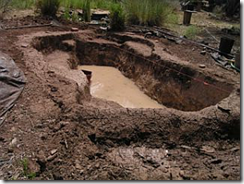 By the middle of August, just when the monsoons blew in and every afternoon became cloudy, cool and rainy, the pond was full. Still, determined to christen it properly, neighbors came over for cocktails one evening, and Mary and I took our drinks into the water. It's not finished yet. I worked all fall rocking the edge, landscaping the stream that flows out from the ponds to the woods, pruning trees, and planting bulbs. Next summer, i'll finish the rock work, and the pond will serve as a fine dipping pool whenever garden work gets hot.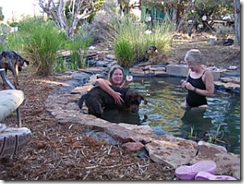 Amy came from Virginia in mid-August to spend a week's vacation, and I took another vacation. We hiked up into the mountains hunting mushrooms but found cows instead, created a mosaic table from an old army trunk and started a mosaic birdbath, threw a huge patio party, and took cocktails and snacks to the Black Canyon, a spectacular National Park six miles from home wherein the Gunnison River has carved a gorge more than 2000 feet deep (twice as tall as the Empire State Building) and half as wide. Here after a gin and tonic, Amy earned her new name, Runs With Scissors.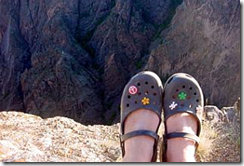 Meanwhile, back in Virginia, my dear uncle Ford died after a long decline. During the course of his last month, I researched once again the options for helping him out. I had looked into ways and means of helping my mother end her life when she was dying, very uncomfortably, four years ago. The answers were the same this year as that, but Ford ended up not needing assistance. Still, I had relearned the methods, which came in handy, unfortunately, a couple of months later. (Reflection on death hardly seems appropriate for a Christmas letter (or maybe it is), yet can hardly be left out of a year-in-review. Death is a subject of constant contemplation for me ~ I just seem to be wired that way. I struggle daily to make peace with the fact that we're all gonna die.) 
In September, Margo came from Florida for Render the Rock, a Crawford art festival in which people come from all over to paint, or otherwise represent, Needle Rock, our town's other geologic landmark and a key piece of the view from my deck. Have I mentioned yet how very fortunate I feel to live in such a gorgeous place?

We practiced painting plein air the day before along Buck Canyon, and then in the evening at the Black Canyon. The next day we painted all day then went to the reception/auction in the evening to find that Margo had won first place, and I had taken an honorable mention in the Fine Arts category. (Can you see, by the way, how for me to recount just the adventures of a week, much less a whole year, could be a project?)
After that August day in the mountains, Brick wasn't quite right. Various vets thought it was a digestive ailment, so we put him on one yummier food after another u
ntil by October all he would eat was raw hamburger. By then I knew it was bad, and an ultrasound revealed a tumor on his heart. He lived three weeks after that, and I put him down beside the pond on October 15, with a cocktail of sleeping pills and morphine. And, I hate to say it, a plastic bag. But he never woke up, and he didn't have to go to the vet, and no strange ominous person came to give him a shot, and all in all it was a peaceful thing. He gave me a great gift in his dying that is hard to explain.
Those last several days with Mr. Brick were among the most extraordinary I've ever experienced: the love and gratitude that passed between us was uplifting. Me and a dog. A dog who had not been all that cozy for all his life, always by my side (except when he was out chasing deer or otherwise occupied on his own terms) but rarely seeking touch or affection. So there it was. He was dead, rather suddenly, in the prime of his adulthood. The other dogs came and sniffed and understood and left him alone. The Ranger, who had dug the pond, came and dug a fine grave and helped me lay him into it and cover him up. In his last full week alive, I took Mr. Brick out in the mountains in the yellow aspens and rushing creeks, I took him out in the high desert and let him run alongside the car (he would not have it any other way), and I took him through our own woods as long as he was able to walk. The day he could no longer walk was the day I helped him out. Raven seemed to know how it was with him, and one morning a couple of days before he died she gave him a thorough wash, both ears, both eyes, his whole face she licked and licked.
November brought the most amazing rainbow I have ever seen here, and in late summer and fall we have an awful lot of rainbows. It arced almost straight up from inside Buck Canyon, high into the sky, a full double rainbow, and came down again in the canyon ~ from my point of view it spanned "my" land. I had been working inside preparing for some girls to come over for dinner as the rain pelted the metal roof, when I looked up and thought "there will be a rainbow now," and went outside to an astonishing spectacle. People were talking about it for days all over the greater Crawford area. Though it will not do it justice, I cannot help but include a picture of it here:
November continued unseasonably warm, as it did last year. I spent the month gathering firewood for winter, cleaning up the yard of all the clutter that accumulates during summer and that you don't want to get buried by snow and find frozen, rotted, rusted or broken the next spring: shovels, picks, pruners, clippers, knife, buckets, duct tape, hats, rakes, gloves, and other tools; plus dog toys that some might consider trash, like old lengths of PVC, old water filters, plastic bottles (one of their favorites for the wonderful crunching noise it makes), cardboard and so on; hoses, of course, which must be drained and coiled daily for some weeks of transition, when, if it's dry, you might need to water the trees again, after it's started to freeze at night but before it never gets above freezing… With the continued balmy autumn weather, (and, I might add, a spectacular aspen display that lasted weeks and rolled yellow down the sides of spring-green mountains, tangling with reddening oaks, dark evergreens and tawny rocks), I stayed busy outside topdressing with compost the various garden beds and mulching with straw, deep-watering and pruning trees, and doing other autumn chores outside. I could hardly bear to spend an afternoon inside working, with winter looming and the endless Indian Summer bound to end suddenly any day. And then it did.
Meanwhile, back in New York, Aunt Nelle died after a long struggle with emphysema. My father will turn 90 this April ~ he smoked for 40 years before quitting one day. (Literally, one day, or so I hear.) I know the death of his "little sister" must have come as another shock to him after losing his decade-younger wife of fifty years four years ago. He continues to persevere with his indomitable spirit. 
I've already started making plans to travel east in April to celebrate both his 90th birthday, and the wedding of my goddaughter Melody. And now, exhausted by both the past described and the future anticipated, I find myself at the end of December. Snow descended the week after Thanksgiving, a sudden blanket, that deepens with each ensuing storm. Week after week more snow comes. The lows this week have been down to 0°. I've kept the paths shoveled to the car, the woodpile, the generator, the bird feeders, and the back gate. Most mornings when it gets above 20° we ski out the back gate and tour the forest, the good dogs running ahead and around, bounding through snow white-faced and laughing, me gaining strength and learning to move anew each day. 
The little puppy has grown into a big dog, weighing 85 pounds at 10 months old, and he remains the most agreeable dog ever. His now-little sister Raven at 20 pounds less has transformed from a tough tomboy into a delicate flower in the course of mothering him since he was five weeks old. The two of them will spend all day outside playing in the snow if the sun shines, then come in to take turns sleeping on the pillow before the woodstove, which hums like a little furnace as I feed it logs of aspen, apple, cherry or oak throughout the day and evening. The tortoises have holed up in the laundry nook and only Desmond comes out sometimes when I do wash. There's a foot of snow outside, but when the sun shines the house is bright and warm, the sunroom full of glowing greens and flowers. Deeper and deeper I go into hibernation as the holiday season winds down and I approach my fiftieth birthday. It seems a good time all around for introspection. Like the cats I curl inward.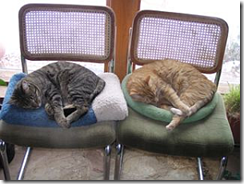 But do you see, I have just barely scratched the surface of all that happened here this year? Where are the accounts of the friends who came to dinners or salons, the details of the garden harvest, the peach picking and jam making, the yoga classes and the cross-country skiing? How does one summarize a year in a few pages without leaving out hundreds, thousands of pertinent facts?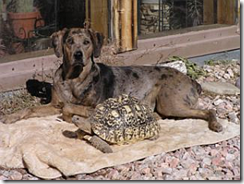 I have been blessed with an amazing life. Each day holds more plenty than I could imagine or describe. Each day holds more lessons, painful and enlightening, than I could hope for. Each day of being human in a human world, in a wild world, in a mixed-up world, is full of challenges, of life and death matters. Every little thing counts, every choice, every thought. May we all find some measure of peace amongst our challenges in the coming year. May we all enjoy being human on this lovely spinning globe, this ultimate carnival ride through the universe.
With love and gratitude at the beginning of this new year…
Rita
]]>