<![CDATA[
This week's submission for One Single Impression. The prompt for December 14th is: distractions
The word distraction derives from the Latin word distrahere, to pull apart. These poems are about the lack of distractions (the pulling toward) for two unique beings–my rescued deaf Husky, Geronimo, and the poet Tammy from The Daily Warrior .
1.
dancing northern dog
straining to his harness
early morning trek leaves
nothing to be desired
the pull is the snowy moon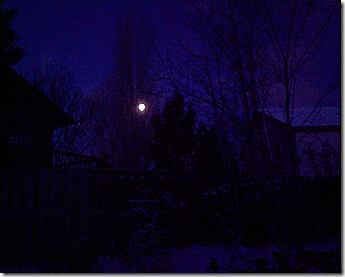 Taken at 6am this morning on our spectacular suburban iditerod.
2.
Tammy thrives
without full mobility
distractions delimited
warrior unleashed
heart pulls towards meaning
Tammy and friend sitting on Tammy's walker, hunting Christmas trees,
stuck in the mud. Never a stick-in-the-mud herself, Tammy is an
astounding 18 year veteran of ALS (Lou Gehrig's disease), long past the
norm…holding out for the cure. My bet is on Tammy.
One Single Impression is a community of poets writing and sharing haiku and other poetic forms. Each week we offer to our muses a new prompt. Come play with us!
]]>