Warning
: Illegal string offset 'status_txt' in
/home/virtu151/public_html/wp-content/plugins/share-and-follow/share-and-follow.php
on line
1168
Warning
: Illegal string offset 'status_txt' in
/home/virtu151/public_html/wp-content/plugins/share-and-follow/share-and-follow.php
on line
1168
Warning
: Illegal string offset 'status_txt' in
/home/virtu151/public_html/wp-content/plugins/share-and-follow/share-and-follow.php
on line
1168
Warning
: Illegal string offset 'status_txt' in
/home/virtu151/public_html/wp-content/plugins/share-and-follow/share-and-follow.php
on line
1168
Warning
: Illegal string offset 'status_txt' in
/home/virtu151/public_html/wp-content/plugins/share-and-follow/share-and-follow.php
on line
1168
Warning
: Illegal string offset 'status_txt' in
/home/virtu151/public_html/wp-content/plugins/share-and-follow/share-and-follow.php
on line
1168
Warning
: Illegal string offset 'status_txt' in
/home/virtu151/public_html/wp-content/plugins/share-and-follow/share-and-follow.php
on line
1168
Warning
: Illegal string offset 'status_txt' in
/home/virtu151/public_html/wp-content/plugins/share-and-follow/share-and-follow.php
on line
1168
<![CDATA[
Awhile back my friend Rita C. posted a piece here on the VTH called 'Women who sleep with dogs'. It's a sweet, edgy, tongue in cheek poem that made me think about the wolves I've slept with.
Now, all you hundreds of past lovers of mine out there in the world, you can rest easy. I'm not talking about you. Of course. That was in the contract, right? I'm talking about Geronimo, the found dog. The wonder wolf. The Mo-Mo. The damn dog.
He sleeps on my bed, or our bed, as the night might have it.
He sleeps, at first in one corner, but within 100 deep breaths (meaning that I'm 'out'), scootches over onto 1/3 of the bed, usually horizontally. I sometimes wake up enough to try to move him a little. But he skitters a little (he's still a little wary) and I give in and move my body to accommodate. So I wake with stiff somethings–legs, hips, shoulders, at the 5:30 am Howling. With the changing of the light, it's now 6:00, but it sounds better for the story to say 5:30, so we're sticking with it.
What's with this? Why don't I find a better solution to the sleeping arrangements?
Well…he's very cute, always smells wonderful (and he never needs a bath–is that just a Northern dog/wolf/husky thing to smell good without bathing–naturally more oily coat?). His breath smells better than Andy's, and I'm quite certain, better than mine.
And he's now bonded to us. It took 7 months, but he's now so comfortable in both our homes that it's like he's always been here. He loves Andy's boys, and they adore him. He cuddles better than any dog I've ever had.
He still eats only meat, no vegetables or fruit or kibble. At 10 years of age, he is lean, can run long and far on long lanky legs. No real signs of arthritis. His nose is almost always wet and his eyes clear.
Geronimo's changed the way I look at aggression–I think of him whenever I am faced with situations that are headed that way. He stands his ground, wags his tail. No cowering. No macho stances. No turfing. No shrinking back. And then the would-be aggressor does the same. In a pack, he'd be the beta-male, and his adaptability amazes me time after time.
Now, as the weather turns cold and rainy, he snuggles in and I am content.
So, I sleep with a wolf. I didn't get a wolf-dog on purpose. I would never support breeding wolves into the dog genes. Way too risky for the dogs and ridiculously difficult for the wolf-dog. But he's here, in my lap. And we love him. He's neutered so there will be no more wolf-dogs coming from his loins.
So I'll twist myself up a bit and sleep with a wolf. Can't think of a better thing to do.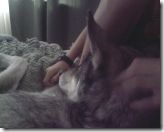 Geronimo sleeping on my bed this summer, with 9 year old Timmy petting him awake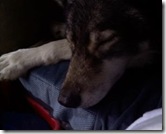 Geronimo crashed in the Eurovan after an August hike
| | | |
| --- | --- | --- |
| Share this post : | | |
]]>