Warning
: Illegal string offset 'status_txt' in
/home/virtu151/public_html/wp-content/plugins/share-and-follow/share-and-follow.php
on line
1168
Warning
: Illegal string offset 'status_txt' in
/home/virtu151/public_html/wp-content/plugins/share-and-follow/share-and-follow.php
on line
1168
Warning
: Illegal string offset 'status_txt' in
/home/virtu151/public_html/wp-content/plugins/share-and-follow/share-and-follow.php
on line
1168
Warning
: Illegal string offset 'status_txt' in
/home/virtu151/public_html/wp-content/plugins/share-and-follow/share-and-follow.php
on line
1168
Warning
: Illegal string offset 'status_txt' in
/home/virtu151/public_html/wp-content/plugins/share-and-follow/share-and-follow.php
on line
1168
Warning
: Illegal string offset 'status_txt' in
/home/virtu151/public_html/wp-content/plugins/share-and-follow/share-and-follow.php
on line
1168
Warning
: Illegal string offset 'status_txt' in
/home/virtu151/public_html/wp-content/plugins/share-and-follow/share-and-follow.php
on line
1168
Warning
: Illegal string offset 'status_txt' in
/home/virtu151/public_html/wp-content/plugins/share-and-follow/share-and-follow.php
on line
1168
<![CDATA[
Never could figure out
why the fascination with gold.
It's pretty enough but so are Russian sage blossoms.
Is it the rarity?
Maybe we should buy groceries or petrol with a life size token of a tree frog.
Who makes the gold, standard?
I am thinking of trading with
rose petals or igneous rock,
or hats knit from the generous undercoat of my beloved Husky.
Or rare shells, like an island economy.
Oh wait, this is an island balanced precariously on the back of a giant tortoise*,
and we're quite possibly re-entering the Age of Iron.
What's up with gold?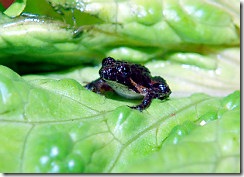 The proposed new greenback… on greens
This little one narrowly escaped becoming part of the salad.
* "It's turtles all the way down…" The most widely known version of this story appears in Stephen Hawking's 1988 book A Brief History of Time, which starts:
"A well-known scientist once gave a public lecture on astronomy. He described how the earth orbits around the sun and how the sun, in turn, orbits around the center of a vast collection of stars called our galaxy. At the end of the lecture, a little old lady at the back of the room got up and said: "What you have told us is rubbish. The world is really a flat plate supported on the back of a giant tortoise." The scientist gave a superior smile before replying, "What is the tortoise standing on?" "You're very clever, young man, very clever," said the old lady. "But it's turtles all the way down!"

quoted from Wikipedia
This is this week's submission for One Single Impression (prompt 33): Gold
One Single Impression is a community of poets writing and sharing haiku and other poetic forms. Come by and visit or better yet, submit your own poem by posting it to your blog and linking through this site!
]]>