Warning
: Illegal string offset 'status_txt' in
/home/virtu151/public_html/wp-content/plugins/share-and-follow/share-and-follow.php
on line
1168
Warning
: Illegal string offset 'status_txt' in
/home/virtu151/public_html/wp-content/plugins/share-and-follow/share-and-follow.php
on line
1168
Warning
: Illegal string offset 'status_txt' in
/home/virtu151/public_html/wp-content/plugins/share-and-follow/share-and-follow.php
on line
1168
Warning
: Illegal string offset 'status_txt' in
/home/virtu151/public_html/wp-content/plugins/share-and-follow/share-and-follow.php
on line
1168
Warning
: Illegal string offset 'status_txt' in
/home/virtu151/public_html/wp-content/plugins/share-and-follow/share-and-follow.php
on line
1168
Warning
: Illegal string offset 'status_txt' in
/home/virtu151/public_html/wp-content/plugins/share-and-follow/share-and-follow.php
on line
1168
Warning
: Illegal string offset 'status_txt' in
/home/virtu151/public_html/wp-content/plugins/share-and-follow/share-and-follow.php
on line
1168
Warning
: Illegal string offset 'status_txt' in
/home/virtu151/public_html/wp-content/plugins/share-and-follow/share-and-follow.php
on line
1168
<![CDATA[
I don't know about y'all, but I'm jonesing for fall. It's my favorite season. Maybe I'm making it up, but I could swear that subtle air and light quality changes are happening. Like tonight, the air is very cool–by morning and my 5am trek with Damn Dog Geronimo, I'll need a jacket and some socks…yippee!
To prepare us for some autumn hiking during which by some swoop of good fortune we might meet a bear who's foraging and doing bear-things, the following advice could conceivably come in handy.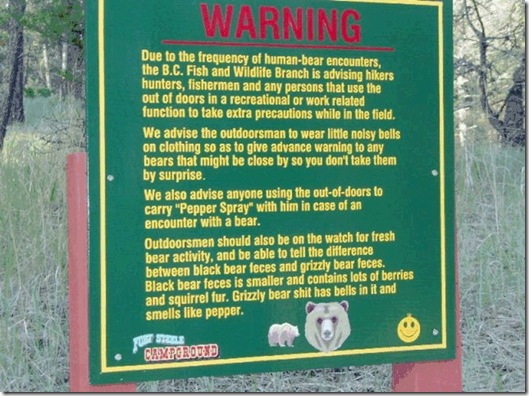 Thanks to Richard for sending this. Made me laugh out loud! I'd heard this same type of ditty about alligators vs. fresh water crocodiles when I lived in Florida, and even told it to some Florida swamp-virgins just to watch their faces…

awww…what's not to love about this fuzzy guy?
We've got a thing going with the bears, yes?
Happy hiking!
| | | |
| --- | --- | --- |
| Share this post : | | |
]]>