Warning
: Illegal string offset 'status_txt' in
/home/virtu151/public_html/wp-content/plugins/share-and-follow/share-and-follow.php
on line
1168
Warning
: Illegal string offset 'status_txt' in
/home/virtu151/public_html/wp-content/plugins/share-and-follow/share-and-follow.php
on line
1168
Warning
: Illegal string offset 'status_txt' in
/home/virtu151/public_html/wp-content/plugins/share-and-follow/share-and-follow.php
on line
1168
Warning
: Illegal string offset 'status_txt' in
/home/virtu151/public_html/wp-content/plugins/share-and-follow/share-and-follow.php
on line
1168
Warning
: Illegal string offset 'status_txt' in
/home/virtu151/public_html/wp-content/plugins/share-and-follow/share-and-follow.php
on line
1168
Warning
: Illegal string offset 'status_txt' in
/home/virtu151/public_html/wp-content/plugins/share-and-follow/share-and-follow.php
on line
1168
Warning
: Illegal string offset 'status_txt' in
/home/virtu151/public_html/wp-content/plugins/share-and-follow/share-and-follow.php
on line
1168
Warning
: Illegal string offset 'status_txt' in
/home/virtu151/public_html/wp-content/plugins/share-and-follow/share-and-follow.php
on line
1168
<![CDATA[
My ex-husband, Tom and I are grieving today the impending death of the last of 3 amazing German Shepherds that we were graced to belong to during our life together. I know that many of you who have experienced the death of a beloved pet will find your heart breaking about your own past or future losses. Love is like that–it sets up sympathetic vibrations in us. This post is mostly pictures with a little text. What I want to portray is the love that we both have been given from this sweet creature, and how much we love her and will miss her, always.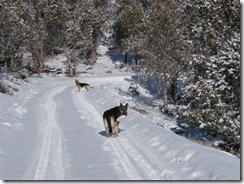 Ling came to us as a pup with her sister Lucy as foster dogs. My sister who bred and raised shepherds at the time was looking for a permanent placement for them. Lucy eventually went to another home, but Ling stayed with us on our spacious land in western Colorado. In this picture, taken in February 2004, she is the furthest dog down our long driveway. The nearer dog, Jaz, the alpha of the pack, died suddenly a few weeks after this photo and Ling was heartbroken for a long time.
By this time I was living in Bend, Oregon with the third shepherd, Josh. I love this picture, even though it's a pretty far view of Ling, as she was a ball-dog to the end. In this photo, she's after a stick thrown way on down the road. Even with such severe hip-dysplasia that vets would wonder how she could walk, she would chase a ball, stick or as a last resort, even a stone until and past exhaustion. She loved nothing better in life. Food was a necessary evil to give her the strength to do her work: play. She, as most German Shepherds, was full of heart and vigor. With a high pain threshhold and a drive that was unstoppable, very little kept Ling from her appointed task: Let's Play Ball!
Ling was a creative ball-dog. Somewhere around 2-3 years of age, I realized that she could actually catch a ball rolled to her–with her feet! She would lie down/sit across from whereever one of us was sitting and would roll the ball to us with her nose. Then if we rolled it back, she would catch it with either her mouth or by clapping her feet together around the ball. The first time I saw her playing catch with her feet, I about flipped. I went to Tom and told him about it, and he pretended to think I was making it up…and the next time we saw her doing it he started laughing and told me he knew she had taught herself to do this, he was just messing with me. She just was so focused on the ball that she could devise all manner of clever things to do to play with it–and invite us into the game.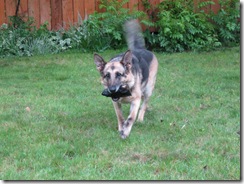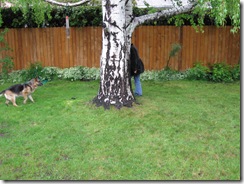 This series of pictures was taken in my backyard this past May, after Ling was diagnosed with advanced cancer at 9 years of age. She and Tom came to visit me in Bend. Still playing, with a large tumor on her neck, and certain pain.
These pictures are from the same day, inside my home. I think she knew that her time was short and even with our connection intact, she still grieves and is curious about why I left her. When she and Tom pulled out of my driveway awhile later, she watched me out the window as far as she could, while I wept tears of grief and love.
I thought this might be the last time I saw her, but I was fortunate enough to have a very quick rendevous with her in mid-July, just a short month ago, on my way home from the coast of Oregon. Tom drove a couple hours so that the 3 of us (as well as another dog that Tom now co-owns) could have a walk together. She had a lovely swim in the beautiful clear McKenzie River, chasing sticks and having a grand time.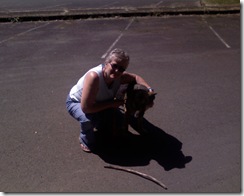 Tom took this bitter-sweet picture of the 2 of us as we were readying to leave the park.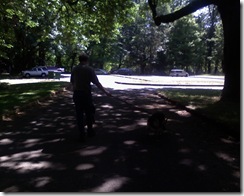 I took this one of the Tom and Ling without them knowing it, walking under large oak trees, back to Tom's truck. This is my last view, in deep shadows, of this sweet and quirky dog who has taught me so much about play and grace, and about how sharing play means: I love you!
This morning when I heard that today was probably the day to euthanize her, Tom said that, even incontinent, the ball is all that matters, and she will still get up to go get the ball. That made me cry harder than anything else.
As we near the end of Ling's life, my prayer is for comfort for Tom, and god-speed for Ling-Bing as she searches for the Ball, thrown high and wide. Go get it, Sweet Pea. Thank you for your presence in our lives. You've lived well, traveled widely, shared huge unconditional love. If you can from wherever you go, remind me now and again that my job is to play with all that is in me…holy soulful play.
]]>