Warning
: Illegal string offset 'status_txt' in
/home/virtu151/public_html/wp-content/plugins/share-and-follow/share-and-follow.php
on line
1168
Warning
: Illegal string offset 'status_txt' in
/home/virtu151/public_html/wp-content/plugins/share-and-follow/share-and-follow.php
on line
1168
Warning
: Illegal string offset 'status_txt' in
/home/virtu151/public_html/wp-content/plugins/share-and-follow/share-and-follow.php
on line
1168
Warning
: Illegal string offset 'status_txt' in
/home/virtu151/public_html/wp-content/plugins/share-and-follow/share-and-follow.php
on line
1168
Warning
: Illegal string offset 'status_txt' in
/home/virtu151/public_html/wp-content/plugins/share-and-follow/share-and-follow.php
on line
1168
Warning
: Illegal string offset 'status_txt' in
/home/virtu151/public_html/wp-content/plugins/share-and-follow/share-and-follow.php
on line
1168
Warning
: Illegal string offset 'status_txt' in
/home/virtu151/public_html/wp-content/plugins/share-and-follow/share-and-follow.php
on line
1168
Warning
: Illegal string offset 'status_txt' in
/home/virtu151/public_html/wp-content/plugins/share-and-follow/share-and-follow.php
on line
1168
<![CDATA[
This delightful story was sent as an email today from my friend Donna. Thanks, Donna!
Recently a family that lives on the outskirts of Anchorage, Alaska built a sturdy, colorful playground for their three and four year old sons. They lined the bottom with smooth-stone gravel all around to avoid knee scrapes and other injuries, don't ya know. Gotta keep the kids safe, after all. They finished building it one Friday evening lately and were very pleased with the result.
The following morning, the mom was about to wake the boys and have them go out to play in their new play center. This is what she saw from the upstairs window: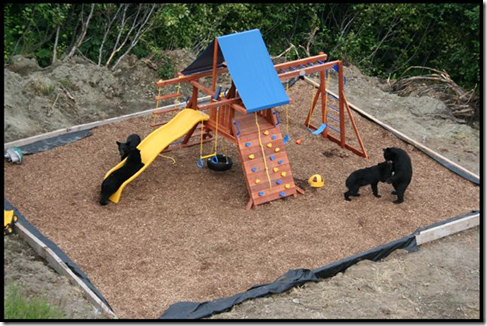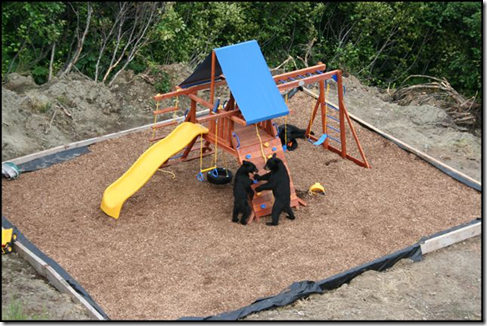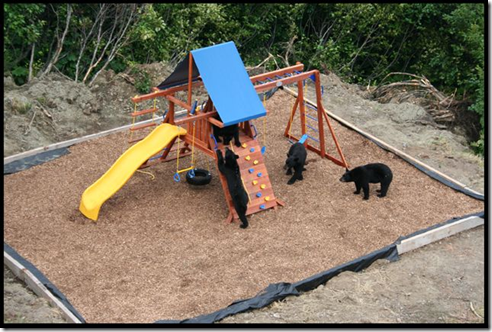 I particularly like the one of the bear on the slide. Too bad they didn't have a trampoline set up!
Puts me in mind of one of Yogi Berra's 'isms': 'If people don't want to come down to the ballpark, how you gonna stop them?'
]]>