<![CDATA[
Poem of the Month – July 2008
This poem just gets better and better with each read! It is deceptively simple, owing to the extraordinary talent of poet Donald Babcock.
Babcock was 100 years old when he died in 1996. I am guessing he lived a long rich life because he had such great Duck Power!
Read this poem for 31 days in a row, and…..well, there's no tellin' what will happen, but you might find your Inner Duck. And in this heaving, wondrous life, that's something pretty special! May we all be blessed to be so religious as the duck!
Blessings of joy and wonder this month! —Krayna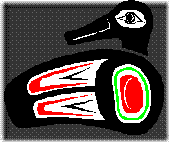 The Little Duck
Now we are ready to look at something pretty special.
It is a duck riding the ocean a hundred feet beyond the surf,
And he cuddles in the swells.
There is a big heaving in the Atlantic.
And he is part of it.
He can rest while the Atlantic heaves, because he rests in the Atlantic.
Probably he doesn't know how large the ocean is.
And neither do you.
But he realizes it.
And what does he do, I ask you.
He sits down in it.
He reposes in the immediate as if it were infinity – which it is.
That is religion, and the duck has it.
I like the little duck.
He doesn't know much.
But he has religion.
Donald Babcock, The Lyfe Poems of Donald Babcock
]]>