Warning
: Illegal string offset 'status_txt' in
/home/virtu151/public_html/wp-content/plugins/share-and-follow/share-and-follow.php
on line
1168
Warning
: Illegal string offset 'status_txt' in
/home/virtu151/public_html/wp-content/plugins/share-and-follow/share-and-follow.php
on line
1168
Warning
: Illegal string offset 'status_txt' in
/home/virtu151/public_html/wp-content/plugins/share-and-follow/share-and-follow.php
on line
1168
Warning
: Illegal string offset 'status_txt' in
/home/virtu151/public_html/wp-content/plugins/share-and-follow/share-and-follow.php
on line
1168
Warning
: Illegal string offset 'status_txt' in
/home/virtu151/public_html/wp-content/plugins/share-and-follow/share-and-follow.php
on line
1168
Warning
: Illegal string offset 'status_txt' in
/home/virtu151/public_html/wp-content/plugins/share-and-follow/share-and-follow.php
on line
1168
Warning
: Illegal string offset 'status_txt' in
/home/virtu151/public_html/wp-content/plugins/share-and-follow/share-and-follow.php
on line
1168
Warning
: Illegal string offset 'status_txt' in
/home/virtu151/public_html/wp-content/plugins/share-and-follow/share-and-follow.php
on line
1168
Solstice weekend now and forever will have a more personal meaning. This two part post is about my dear friend Katrina, who like the hurricane, was a force of nature. Katrina died of cancer at the age of 51 in 2003 on June 19th at 11:45pm, 15 minutes before the solstice. The gifts she gave me in her courageous life and conscious death beat on in my heart.
I met Katrina in 1982 when I was 27 and she was 30 and we both lived in South Florida. We became fast friends very quickly. She was a vibrant, creative artist with an amazing voice. She had survived torrential sexual, physical and emotional abuse as a child, and was deep in her healing process.
She and I would drink cheap wine and talk far into the mornings, making the best homefries at 2 am. We took long lingering beach walks as part of our bonding rituals. She had a phenomenal memory that recorded everything good and bad. Anything I needed to have remembered, I told Katrina. There were some tough times my life wasn't always perfect, and Katrina expected me to be wholesome and clear which I wasn't always. There were a few times of relationship distress, but we always worked through them, even as she moved north to Indianapolis and then to Seattle and then to the San Juan Islands.
In the meantime she changed her name (it was originally Kris). She fell in and out of love a few times. And then she met Kim. Kim is a mountainman that lived by the ocean. Independent, pragmatically philosophical with a full beard and gentle spirit, He was/is the most intuitive plant-man/gardener that I've ever known. Kim was visiting from Fallbrook, California when he heard Katrina sing at a function on the island where she lived, and fell like a stone for this amazing being. He moved to the islands with her and I began to see a healing in Katrina that could come from nothing else but by being loved to one's depths.
In 1998, Katrina and Kim asked me to perform their wedding ceremony, which I was delighted to do. I was by this time living in western Colorado, settled down with my second husband Tom and working for my second decade in hospice. I flew to Seattle, took a puddle jumper to Waldron Island and then a boat to an even smaller island, and there they were, living off the grid. They'd built a sweet cottage, complete with a hot tub (a galvanized metal one!) and other little luxuries. I performed their marriage ceremony on a boat with 30 or so of their friends out in the channel between the islands it was a sweet time and I was so happy for them and honored to be asked to participate.
A month later I got a call from a mutual friend that the FBI had busted Kim for major pot-producing (that's what that extra field was for!). Seems like he had such an amazing green thumb that somehow he'd upset the local economy. Kim went to federal prison for a few years; their home and property were confiscated and sold. Katrina, as an accomplice, was put into a halfway house and suffered many other degrading situations.
Katrina's memories and reactions revolving around the childhood abuse came roaring back with a vengeance. She was panicked, enraged, humiliated. And, she survived. In fact, against all odds, their marriage survived and came out of the situation to live together once more, now back in southern California, where Kim went straight and Katrina tried to find new footing.
She sounded pretty good for awhile. I heard some new healing in her she was clearer than she'd ever been about what she would put up with/or not. I continued to get the letters from her, always written in purple ink with lots of hearts and flowers drawn in…she was just a boundless-spirit trapped in a body that contained all the anger, pain and hurt of the world.
And then came the call in early June 2003. She left a message on my phone saying that she needed to talk with me about someone needing hospice care. I thought it was probably some member of Kim's family. When I called to talk with her it was Katrina who needed hospice. She'd had trouble swallowing for awhile, couldn't keep food down, etc. Of course they had no insurance, so she'd put off going to the doctor. By the time she did, she had advanced stomach and esophageal cancer. After the stun started to wear off, I asked how could I help? She said, I'm choosing no life support, so as I can't eat anything, and barely drink anything, it won't be long. Can you come?
I rearranged my life and left in my little truck on June 9th to drive from western Colorado to Fallbrook, California. It was a pilgrimage like I've not had before. I'd buried both of my parents before I was 33. But, here after almost 20 years of hospice experience, I was going across the desert to help a friend die. I had no doubts about how to deal with the logistics of it all that I did all the time. It was this long, deep, complicated friendship that was being severed by death she was the first friend of my own age to die and I was head-on with my own mortality.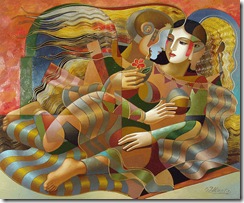 Part 2: The gifts of Katrina's final days