Warning
: Illegal string offset 'status_txt' in
/home/virtu151/public_html/wp-content/plugins/share-and-follow/share-and-follow.php
on line
1168
Warning
: Illegal string offset 'status_txt' in
/home/virtu151/public_html/wp-content/plugins/share-and-follow/share-and-follow.php
on line
1168
Warning
: Illegal string offset 'status_txt' in
/home/virtu151/public_html/wp-content/plugins/share-and-follow/share-and-follow.php
on line
1168
Warning
: Illegal string offset 'status_txt' in
/home/virtu151/public_html/wp-content/plugins/share-and-follow/share-and-follow.php
on line
1168
Warning
: Illegal string offset 'status_txt' in
/home/virtu151/public_html/wp-content/plugins/share-and-follow/share-and-follow.php
on line
1168
Warning
: Illegal string offset 'status_txt' in
/home/virtu151/public_html/wp-content/plugins/share-and-follow/share-and-follow.php
on line
1168
Warning
: Illegal string offset 'status_txt' in
/home/virtu151/public_html/wp-content/plugins/share-and-follow/share-and-follow.php
on line
1168
Warning
: Illegal string offset 'status_txt' in
/home/virtu151/public_html/wp-content/plugins/share-and-follow/share-and-follow.php
on line
1168
<![CDATA[
5th Journal Entry in my 'Where's Home?' series for the writing contest.
Sunday, June 15, 2008 the Central Oregon Fire Circle Community held the second Sunday Morning Fire Circle, sitting with 'Father's Day'. The first Sunday Morning Fire Circle was on Mother's Day in May.
As we munched on some delicious breakfast brought by one of the community members, it was a stunning late spring high desert day–brilliantly clear sky, gentle warmth, dry-but-not-yet-hot-air. Irises, lilies, hostas and blue spirea are blooming in the backyard. We prepared an altar for the energy of father: drum, rosemary plant, marbles, Huichol art, books on healing the wounds of men, candles in a stone holder. And then we started the fire.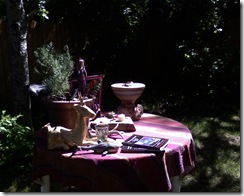 On this day of honoring 'father', Andy Gray led the meditation, as we sat with the lovely fire in my lush high desert backyard. Here's what he read to get us started:
"A young prince needs some models along the way to become a king. If he meets some good passionate lovers, great wise men, and inner-outer warriors, he will be well prepared to hold together the whole human realm. He will be a king, even if it is just a king of his limited area of competence. You can be king of the cobbler shop, believe it or not, and the people will come to your court, not so much to have you fix their shoes as to have you fix their souls. And they will not even know that is why they came."
– Richard Rohr, Adam's Return: Five Promises of Male Initiation
As we broke the silence and reflected on who the 'cobblers' were in our lives and told stories of our fathers, grandfathers, mentors, teachers and husbands, the pain of the lack of role models for the adult generation of men was startling, as was the love and forgiveness for those who have come before us–doing the best they could with what they had to work with. Stories of love that has reached across generations and space/time were present around this day-time fire.
A bit later, as the fire began to die down, Andy read us this story from Prayers for Healing, compiled by Larry Dossey:
"Jacob, where do you find the strength to carry on in life?"

"Life is often heavy only because we attempt to carry it," said Jacob. "But I do find a strength in the ashes."

"In the ashes?" asked Mr. Gold.

"Yes," said Jacob, with a confirmation that seemed to have traveled a great distance.

"You see, Mr. Gold, each of us is alone. Each of us is in the great darkness of our ignorance. And each of us is on a journey.

"In the process of our journey, we must bend to build a fire for light, and warmth, and food.

"But when our fingers tear at the ground, hoping to find the coals of another's fire, what we often find are the ashes.

"And in these ashes, which will not give us light or warmth, there may be sadness, but there is also testimony.

"Because these ashes tell us that somebody else has been in the night, somebody else has bent to build a fire, and somebody else has carried on.

"And that can be enough, sometimes." — Noah benShea
From the ashes of what our fathers may not have been able to give us, but would have wanted to if they could, comes the healing of a heart that is open and receptive to what has been given.
We honor the men of our Central Oregon Fire Circle Community. All of them, including the still uninitiated young ones, show us hope in a better way to live our lives–with more openness, more freedom and more spirit.
As we broke up the fire circle, but never the fire within, the love was palpable. Thank you to the fathers, mentors, brothers, friends, sons, teachers, lovers, uncles, and grandfathers who are our Ancestors. We stand on your shoulders.
And so it is.
As part of the 'Where's Home?' series of posts–the ancient ones who embody Father-Grandfather are part of the roots of home for me.
Beth, VTH Host and initiated Fire Keeper
For those of you who would like to find fire circles in your area, click here for Sacred Fire Community info.
]]>