Warning
: Illegal string offset 'status_txt' in
/home/virtu151/public_html/wp-content/plugins/share-and-follow/share-and-follow.php
on line
1168
Warning
: Illegal string offset 'status_txt' in
/home/virtu151/public_html/wp-content/plugins/share-and-follow/share-and-follow.php
on line
1168
Warning
: Illegal string offset 'status_txt' in
/home/virtu151/public_html/wp-content/plugins/share-and-follow/share-and-follow.php
on line
1168
Warning
: Illegal string offset 'status_txt' in
/home/virtu151/public_html/wp-content/plugins/share-and-follow/share-and-follow.php
on line
1168
Warning
: Illegal string offset 'status_txt' in
/home/virtu151/public_html/wp-content/plugins/share-and-follow/share-and-follow.php
on line
1168
Warning
: Illegal string offset 'status_txt' in
/home/virtu151/public_html/wp-content/plugins/share-and-follow/share-and-follow.php
on line
1168
Warning
: Illegal string offset 'status_txt' in
/home/virtu151/public_html/wp-content/plugins/share-and-follow/share-and-follow.php
on line
1168
Warning
: Illegal string offset 'status_txt' in
/home/virtu151/public_html/wp-content/plugins/share-and-follow/share-and-follow.php
on line
1168
<![CDATA[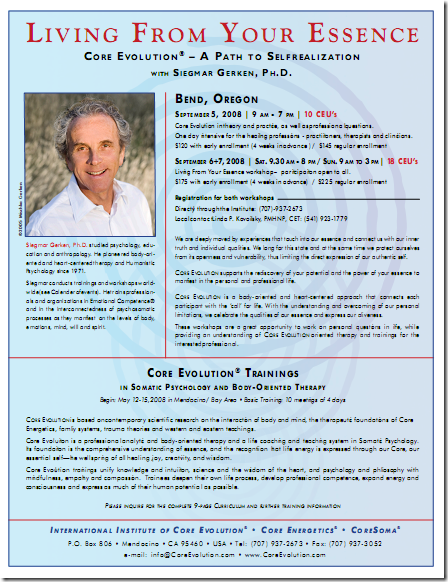 Linda Kovolisky, psychiatric nurse practitioner in Central Oregon, asked me to post this info on the Virtual Tea House.
The journey of being human is complex and in our early developmental years when we experience prolonged emotional or physical stress we develop strategies to protect our essential being or Core self. Protective strategies become patterned over time in our body, emotions and psyche. As a result, we slowly lose touch with our true essence, our Core – where we are fully alive, authentic, open to all of our feelings, possibilities, and creativity.

Core Energetics Therapy is a body-centered psychotherapy that works towards unifying the five layers of our being: the body, emotions, mind, will of the heart and spirit. Offering a dynamic experience, Core Energetics combines both talk therapy and physical movement in addressing the issues that prevent you from living to your fullest potential and experiencing greater aliveness. By working with movement, consciousness, and the energy of the body, Core Energetics supports you in accessing the wisdom of your body- your Core, where truth, presence, pleasure and fulfillment expands from.
This training is sure to be excellent for anyone in the healing professions.
Beth, VTH Host
]]>