Warning
: Illegal string offset 'status_txt' in
/home/virtu151/public_html/wp-content/plugins/share-and-follow/share-and-follow.php
on line
1168
Warning
: Illegal string offset 'status_txt' in
/home/virtu151/public_html/wp-content/plugins/share-and-follow/share-and-follow.php
on line
1168
Warning
: Illegal string offset 'status_txt' in
/home/virtu151/public_html/wp-content/plugins/share-and-follow/share-and-follow.php
on line
1168
Warning
: Illegal string offset 'status_txt' in
/home/virtu151/public_html/wp-content/plugins/share-and-follow/share-and-follow.php
on line
1168
Warning
: Illegal string offset 'status_txt' in
/home/virtu151/public_html/wp-content/plugins/share-and-follow/share-and-follow.php
on line
1168
Warning
: Illegal string offset 'status_txt' in
/home/virtu151/public_html/wp-content/plugins/share-and-follow/share-and-follow.php
on line
1168
Warning
: Illegal string offset 'status_txt' in
/home/virtu151/public_html/wp-content/plugins/share-and-follow/share-and-follow.php
on line
1168
Warning
: Illegal string offset 'status_txt' in
/home/virtu151/public_html/wp-content/plugins/share-and-follow/share-and-follow.php
on line
1168
<![CDATA[
Whatever I have to feel
Whatever I have to remember
Whatever I have to go through…
If it is for my healing
and the highest good of all beings
I agree to it."
I had the honor this past weekend of joining a group of about 20 people, mostly from Central Oregon, for a workshop led by Jonathan Goldman. It was supposedly about 'Living from the Heart: Embodying Calmness'…and of course, it was about that. But those who have gone to more than one of Jonathan's trainings say that that they are all about the same thing: living lives of surrender, compassion, faith….and of course, calmness comes naturally–almost as a default! The work is about learning how to be what we really are: a bridge between spirit and matter, heaven and earth. The work is about how to compassionately remove the layers of fear, doubt, unforgiveness and anxiety that obscure the light that we embody.
The work is sweet and deep. The hearts open and loving. I received a healing of a layer of grief and un-forgiveness and I know that others received healings as well.
I left the workshop with a renewed commitment to deepen my own prayer practice, gather more closely the community that I love , to SING, to do more solo vigils around the fire, to be more consistent in the meditation given to me by my spiritual director: sit each day and visualize the sun shining right through me–whatever the weather and whereever I am. This practice has been of immense value in moving me through layers of ego-related stuff and while I've still got a few more thousand layers to go, we're moving forward–and on some level I know that freedom is but one tiny choice away!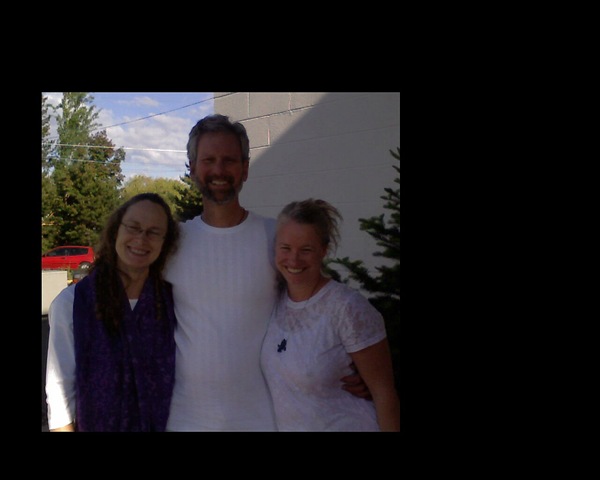 Jonathan with Shannon and MaryBeth, 2 of the staff for the weekend. Not pictured: Mary and Jackie
The Living from the Heart training was created to meet the needs of people from all walks of life who are experiencing an awakening of their inner being. It is intended for those who understand the necessity of clearing themselves of past emotional, mental, and spiritual issues which have become impediments to the embodiment of their more authentic self.
Calmness, compassion, faith and surrender are the qualities expressed by the four levels of the heart. Living in the Heart is an authentic state of being which can be reached, learned and embodied. In this training, you will be guided towards your goal in a series of four sessions, each lasting 4 days.
Session One: Embodying Calmness
Calmness is a product of grounding and releasing constrictions in the body. When we learn to embody calmness, we can then fully inhabit our "home away from home"….our bodies. This is the beginning of true empowerment.
Session Two: Embodying Compassion
As we embody compassion, for ourselves and for others, our view of life organically changes from one of separation to one of unity. Healing is guaranteed.
Session Three: Embodying Faith
The antidote to fear is faith and it lives in our bodies. Together we will locate it, develop a new relationship with it and let it become our guide.
Session Four: Exploring Surrender
Surrender happens in stages and is a lifelong process. It is the key that unlocks the door to the miracle of a spiritualized life

Please consider joining the group for Session Two: Embodying Compassion
Workshop Dates: October 2008 (more details will be posted)
Times: Thursday evening: 6:30 – 9:30 pm
Friday – Saturday: 9:00 – 6:00 pm
Sunday: 9:00 – 4:00 pm
Location: TBA, Central Oregon
Cost: $550 includes workshop fee; delicious, hearty lunch, and snacks
25 CEU's offered for LMT's


Registration: Contact Shannon Ransom
belightful@bendbroadband.com
541-317-9398
Here is the song/prayer that shared at the workshop, for those of you who attended–many of you asked me to write it down:
"How could anyone ever tell you
You are anything less than beautiful?
How could anyone ever tell you
You are less than whole?
How could anyone fail to notice
That your loving is a miracle?
How deeply you're connected to my soul!"
This path is not for everyone (none of them are!). But if your heart is ready and calling for a deeper healing-so that you can be of service to your family and community-it just might be worth the exploration!
Thank you, Jonathan, the staff and all the amazing participants–what a lovely bunch of torches you are!
Thanks also for the Whatever Prayer–I can feel it working on me…and through me.
Beth, VTH Host
]]>