Warning
: Illegal string offset 'status_txt' in
/home/virtu151/public_html/wp-content/plugins/share-and-follow/share-and-follow.php
on line
1168
Warning
: Illegal string offset 'status_txt' in
/home/virtu151/public_html/wp-content/plugins/share-and-follow/share-and-follow.php
on line
1168
Warning
: Illegal string offset 'status_txt' in
/home/virtu151/public_html/wp-content/plugins/share-and-follow/share-and-follow.php
on line
1168
Warning
: Illegal string offset 'status_txt' in
/home/virtu151/public_html/wp-content/plugins/share-and-follow/share-and-follow.php
on line
1168
Warning
: Illegal string offset 'status_txt' in
/home/virtu151/public_html/wp-content/plugins/share-and-follow/share-and-follow.php
on line
1168
Warning
: Illegal string offset 'status_txt' in
/home/virtu151/public_html/wp-content/plugins/share-and-follow/share-and-follow.php
on line
1168
Warning
: Illegal string offset 'status_txt' in
/home/virtu151/public_html/wp-content/plugins/share-and-follow/share-and-follow.php
on line
1168
Warning
: Illegal string offset 'status_txt' in
/home/virtu151/public_html/wp-content/plugins/share-and-follow/share-and-follow.php
on line
1168
<![CDATA[
This is the next post in the series, "Hi Honey, I'm Home", as we work with the contest, "Where's Home?"
It's been raining here in Central Oregon for a week. Many of you may say, 'isn't that what it does in Oregon–rain?' and you would be correct…except that here in the high desert, east of the Cascade Range, it doesn't! We get a fair amount of snow, but very little rain.
So this spring rain–every day for a week–is a huge treat for the plants and animals. We're beginning to look for the infamous banana slugs of the rainy part of the northwest to be sliming their way into town on the bus from Seattle anyday now.
The lilacs are amazing this year. It must be all the moisture–but they're nuts. The ones in my yard are heavy-laden with rain water, but still happy as slugs-on-a-bus.
I don't know what it is about lilacs–except they're like the smell of newly-baked bread to me. We had a large, leggy inverted-V shaped lilac bush on the farm where I grew up in upstate Pennsylvania. I loved the smell of the deep blue-violet colored blossoms, and they were one of the best parts of spring–along with the irises. I never tired of sticking my freckled nose deep into them and snorting lilac. Gives me a rush just remembering.
I guess there were lilacs in Western Colorado where I lived for 13 years before moving to Oregon. Isn't that odd that I wouldn't remember? After moving from the farm in Pennsylvania at the age of 14 to a mobile home park in Florida where no self-respecting lilac would ever grow, and yet where I grew up and lived for 21 years, but never got over missing the lilacs and the irises and the tiger lilies…you'd think I'd remember if there were a plethora of lilacs in high desert Western Colorado when I moved there in my late 30′s.
But the truth is: I don't remember. And another truth is: I was never really home in Western Colorado, as absolutely beautiful as it is: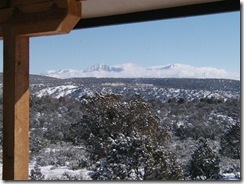 This was the view off the front porch of my gorgeous house in Hotchkiss, Colorado on 35 acres of stunning juniper and pinion.
So…maybe somehow the lilacs-of-my-childhood have lured me 'home' to Central Oregon?
The landscape and plants are very similar to western Colorado. Both are beloved high desert. But one place is home and the other isn't. I wish I could articulate why. But I can't.
I knew I was home in Central Oregon when I got off the plane for the first time in 2003 and felt the crisp desert air, saw the Cascade Mountains so accessible and sweet, and smelled the juniper and sage at the edge of the runway.
When I bought my 60 year old home here in Bend in August 2004, I suspected that there were some nice lilacs around the yard, but had to wait until the next spring to see. And they are glorious! All around the yard. About 3 different varieties that I can see. These good-natured, long-suffering plants and the bad-boy-lilies-of-the-valley…and the reserved mock oranges and the generous weeping birch…my little cottage is a paradise!
I had the pleasure of roaming my neighborhood, the "Orchard District" early in the morning this past weekend with a friend's 7 year old son, Joey and Geronimo the D-dog. Joey is amazingly aware of nuances, and so our dialogue about the subtleties of blue/purple vs. purple/blue lilacs was like having a satisfying meal. And then, after telling him about the loveliness of white lilacs, we found some, and stood and really looked and smelled their beauty as well. It was a joy to see this child loving these flowering shrubs. He says he has a lilac tree in his yard at home in LaGrande, Oregon, and I believe him! The circle has come 'round. Joey will remember the sense of lilacs and they will help pull him to his rightful home too.
What makes a place home? There's several of you who have written about this for the contest. I encourage more of you to do so. It's a worthwhile exercise in understanding what connects us to place, to the energy of a spot, to the the people, plants and animals of the place.
Right now, for me…home is where the feeling is: when it's my time to die, I want to be here, connected to these _________(fill in the blanks). I want to be surrounded by:_________________(more blanks). I want to be able to look out the window and see and smell and hear:______________(yet more blanks). When I'm done with my body, I want my spirit to mingle again with the spirits of this land–this place–these rocks and trees, these ancestors.
I'm crying as I write this, and I know that this is my truth. I'm home. The lilacs are probably responsible. And for that they get some extra fertilizer this fall.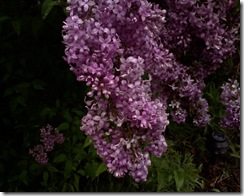 'Where's Home?' contest/exercise completes June 25th. I have room for about 1000 more submissions. I have wildflower seeds to lovingly select for the lucky winners. Better hurry.
Beth, VTH Host
]]>