Warning
: Illegal string offset 'status_txt' in
/home/virtu151/public_html/wp-content/plugins/share-and-follow/share-and-follow.php
on line
1168
Warning
: Illegal string offset 'status_txt' in
/home/virtu151/public_html/wp-content/plugins/share-and-follow/share-and-follow.php
on line
1168
Warning
: Illegal string offset 'status_txt' in
/home/virtu151/public_html/wp-content/plugins/share-and-follow/share-and-follow.php
on line
1168
Warning
: Illegal string offset 'status_txt' in
/home/virtu151/public_html/wp-content/plugins/share-and-follow/share-and-follow.php
on line
1168
Warning
: Illegal string offset 'status_txt' in
/home/virtu151/public_html/wp-content/plugins/share-and-follow/share-and-follow.php
on line
1168
Warning
: Illegal string offset 'status_txt' in
/home/virtu151/public_html/wp-content/plugins/share-and-follow/share-and-follow.php
on line
1168
Warning
: Illegal string offset 'status_txt' in
/home/virtu151/public_html/wp-content/plugins/share-and-follow/share-and-follow.php
on line
1168
Warning
: Illegal string offset 'status_txt' in
/home/virtu151/public_html/wp-content/plugins/share-and-follow/share-and-follow.php
on line
1168
<![CDATA[
From now until the contest is over on June 25th I'll be doing a series of photos and other stuff that illustrate 'home'. This is a cleverly designed marketing ploy to get you to write/photograph/do a YouTube video, etc. of 'where's home' for you. I'm getting some lovely submissions for the contest–what a delight! Keep those emails coming!
Hi honey, I'm home # 1 The almost sicky-sweet and yet oddly refreshing smell of lilies of the valley, convallaria majalism, is one of the most ancient aromas for me. Both of my grandmothers back east in upstate New York loved the unpretentious and persistent little plant. So I was delighted, come spring of 2005, after buying my 60 year old house in hot and dry August of 2004, to find a healthy crop of lilies of the valley in both the courtyard and the backyard of my home! Somehow these plants remind me of soggy upstate Pennsylvania where I grew up. Since it is a temperate plant, native to eastern US woodlands, I was surprised to see it thriving here around my high desert home in Central Oregon.

Up close and personal with these guys.
The fact that all parts of this plant are highly poisonous is just one of those oddities of life that make me smile.
These fragile-appearing plants have some chutzpah, or flower-balls. I have to tug some of them out every year from behind the steps, where they seem to enjoy growing through a tight crack that's not so tight anymore, thanks to the lilies, among other natural forces. I clean up the edge of the bed in the courtyard, and the lilies' rhizomes consistently step over the line in their march to take over the known world–every spring they run further a-field, or a-brick in this case. (Their determination to grow where ever the heck they want to, year after year, especially outside the prescribed perimeters, somehow reminds me of why we get parts of our bodies waxed for summer bathing attire.)
All that being said, the 'white coral bells' look stunning next to the fallen petals of the flowering crabapples, which were humming with color and aroma and bees last week…ahhh! I am most grateful for the bad-boy spirit of the lilies of the valley in my garden! .
White coral bells
Upon a slender stalk
Lilies of the valley
Line my garden walk.
Oh, don't you wish
That you could
hear them ring.
That will happen only
when the fairies sing.
Oops, there's a fairy right there and it's singing to the lilies, for god's sake! I'm straining to hear…it's a reggae tune…and…it's 'Bad Boys, bad boys, what you gonna do, what you gonna do when they come for you?'… And listen–is that the lilies ringing I hear this lovely spring evening? Probably just the American Red Cross calling AGAIN on my cell phone, wanting my life blood, but on their terms and schedule. Disturbing my reverie, it makes me ponder what a 'lilies of the valley ringtone' would sound like? 'Wild Thing', 'Tainted Love', 'Stayin' Alive' or…
These delicate, poisonous, lovely, aggressive little colonies of white coral bells make me smile at the complexity of each little universe, each wheel within a wheel. They somehow make me feel at home here, in my universe.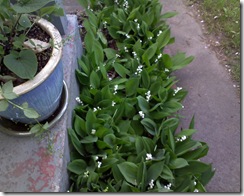 Next 'Hi honey, I'm home' post will probably be about lilacs I've known and loved, unless something else catches my fancy and makes me feel like having a cup of tea and contemplating.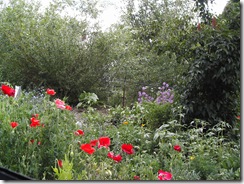 ]]>