Warning
: Illegal string offset 'status_txt' in
/home/virtu151/public_html/wp-content/plugins/share-and-follow/share-and-follow.php
on line
1168
Warning
: Illegal string offset 'status_txt' in
/home/virtu151/public_html/wp-content/plugins/share-and-follow/share-and-follow.php
on line
1168
Warning
: Illegal string offset 'status_txt' in
/home/virtu151/public_html/wp-content/plugins/share-and-follow/share-and-follow.php
on line
1168
Warning
: Illegal string offset 'status_txt' in
/home/virtu151/public_html/wp-content/plugins/share-and-follow/share-and-follow.php
on line
1168
Warning
: Illegal string offset 'status_txt' in
/home/virtu151/public_html/wp-content/plugins/share-and-follow/share-and-follow.php
on line
1168
Warning
: Illegal string offset 'status_txt' in
/home/virtu151/public_html/wp-content/plugins/share-and-follow/share-and-follow.php
on line
1168
Warning
: Illegal string offset 'status_txt' in
/home/virtu151/public_html/wp-content/plugins/share-and-follow/share-and-follow.php
on line
1168
Warning
: Illegal string offset 'status_txt' in
/home/virtu151/public_html/wp-content/plugins/share-and-follow/share-and-follow.php
on line
1168
<![CDATA[
Geronimo, also known as You Dog You and/or Damn Dog is doing well. Thanks to all who have been asking about how he's adjusting to his new family and home at the advanced age of 9. Everyone is slightly distressed that he will eat only raw meat and butter, with a smidge of dairy, but his eyes are bright, his coat, body and breath are all fresh smelling and he runs like he's in the dang Iditerod every day (or when he can get us to run with him). So he's getting the right food for his constitution. He's partially deaf, but we can't blame that on his diet. When we sit on the couch to talk or watch a movie he snuggles in and is very affectionate.
We know precious little about his previous owner, but that he was a service dog for someone with PTSD. He does seem to be tuned in to some other plane of existence, so maybe what his previous owner said about him was right: 'he's aware of unheard dangers'. Pretty unusual for a deaf dog…but maybe he's not listening to the normal plane of sound?
Here's the 'only' problem with this loving rescued dog: he wants to run, howl and he gets anxious in cars. He also gets bored easily. I know, I know, he's a Husky ..and they're bred for running. He needs a job I think. Mix that Husky nature with probably a little wolf blood and boy-howdy.
So he whines at 5:30am so we'll get up and let him out. Then he usually comes back to bed for a few minutes, starts whining again for a walk, which he gets, usually after ululating–that eerie, mournful howl that Northern breeds do that's somewhere between a howl, a cry and a bark. It's a distressing sound, and we want to make it stop…so out we go.

Then he whines for his breakfast. Feed him. Then he whines to go back out into the yard. Then he comes in and sits and looks at us expectantly and whines some more…and on and on.
We are beginning to wonder if we can make him happy. We can't walk him all day long–we both work. We can't figure out what he needs or wants…if he could only hear we'd ask him and I'm sure he'd answer!
So it's whine, whine, whine all day long, starting at 0 dark thirty. It's his default behavior for everything: all-whine-all-the-time.
I got to watching him this weekend and wondering if I'm not like Damn Dog just a wee bit. My defense against boredom, fear and need may be different than Damn Dog's, although I also like to whine almost as much as he does! My preferred default is to stay busy.
I participated in a psychodrama workshop yesterday, organized by Krayna Castelbaum and did an intense piece of intra-psychic work. The work revolved around connecting with the part of me that says I have to keep busy all the time, and the part of me that says if I don't, I'll die, and the part of me that is always coming up with new ideas to make sure that I never run out of raw busy-making material. So I've been playing the part of the perpetrator, victim and hero all in one in this real-life internal drama. The psychodrama was a regular free-for-all and went on for 2.5 hours, and I'm eternally grateful for the trainer, Linda Condon from St. Petersburg, Florida and all the participants in the workshop for helping facilitate this important understanding. I'm sure it was not pretty, but seemed to be helpful for those who played the roles and those who held the space, and for me who has lived with these voices for a very long time. Real shabbos needs to be cultivated in my life.
So my whine goes something like this: 'I'm too busy to do the connecting with ____________(fill in the blank, but usually the earth). I have to do this, this, this, this–all things that are important, etc etc etc." And another voice chimes in: "If you don't stay busy and involved in the world like this, Beth, you're not worthy of being on the planet, so buckle up, shut up and get on with it." And then there's the voice of seeming reason that says that "you've always packed a load, keep on doing it, why not, and hey, if you figure out anything from all this work, you can write a book about it, etc etc etc" Aaargh! Those are the voices in my head that I'm now committing to relate to in a new way.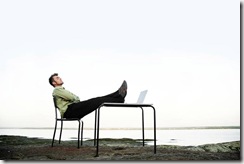 So Geronimo/Damn Dog isn't that different from me He's a little more primal, and I'm a little more tired, but I'm wondering if the part of me that has the wisdom to help me move through this struggle will allow the hairs on her neck stand up if I let go a primal ululation that says 'No more busy!'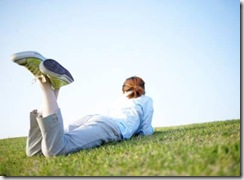 Maybe I can use Geronimo's whining and howling as a reminder to breathe, connect to the moment and say 'no' to that part of me that is killing me with good work.

Click for a version of howling and ululating…
I need a new anchor point to change my behavior. Maybe Geronimo/Damn Dog/You Dog You's incessant whining and ululating can be the wake-up call to Shabbos–literally and figuratively?
Any thoughts?
Beth, VTH
]]>