Warning
: Illegal string offset 'status_txt' in
/home/virtu151/public_html/wp-content/plugins/share-and-follow/share-and-follow.php
on line
1168
Warning
: Illegal string offset 'status_txt' in
/home/virtu151/public_html/wp-content/plugins/share-and-follow/share-and-follow.php
on line
1168
Warning
: Illegal string offset 'status_txt' in
/home/virtu151/public_html/wp-content/plugins/share-and-follow/share-and-follow.php
on line
1168
Warning
: Illegal string offset 'status_txt' in
/home/virtu151/public_html/wp-content/plugins/share-and-follow/share-and-follow.php
on line
1168
Warning
: Illegal string offset 'status_txt' in
/home/virtu151/public_html/wp-content/plugins/share-and-follow/share-and-follow.php
on line
1168
Warning
: Illegal string offset 'status_txt' in
/home/virtu151/public_html/wp-content/plugins/share-and-follow/share-and-follow.php
on line
1168
Warning
: Illegal string offset 'status_txt' in
/home/virtu151/public_html/wp-content/plugins/share-and-follow/share-and-follow.php
on line
1168
Warning
: Illegal string offset 'status_txt' in
/home/virtu151/public_html/wp-content/plugins/share-and-follow/share-and-follow.php
on line
1168
<![CDATA[
One of the joys as well as potholes of hosting a rich and engaging site like the Virtual Tea House is that I'm constantly scouting around, looking for cool stuff to 'drag home' to the site. As I was doing something or other this morning, related to a new site-friend Anthony McCune: "The View from Your Window", I remembered something that had been niggling at me since I named the post yesterday "At play in the heart of the matter".
NOTE: By the way, you might want to take a look at Anthony McCune's personal blog. "Reflections of a 90-year old man; a bit past mid-way in the journey. (currently in the 40′s)" He just did a posting to his website 'The View from Your Window' of a picture of my backyard, including the fire pit, that I emailed this morning. He's looking for people to send pictures of what they see everyday out their windows. He just started this project a few days ago and already has pictures out windows from Australia, France, Ohio and Oregon… It's a very intimate and sweet project–you may want to participate!
Back to what was niggling me: 2 dream fragments about trees that have hearts and in both, I'm playing! Here are the raw dream fragments:
1/27/05 am Heart of the Madrone
Dream fragment: racing back to my camper van, because I left the windows up and Josh is in there—mountain bike—too sandy; running—sliding down into the heart of this HUGE madrone—red bark, lovely smooth bark, sliding, sliding. Don't remember the rest.
(NOTE: Josh is my beloved old black German Shepherd who I had to put down in September of 2005, a few months after this dream.)
Josh in June of 2005 on one of his last outings…we went to McKenzie Bridge, Oregon and got in the beautiful, cool river, even though he could hardly walk, he wanted to feel the river!
July 15, 2007 Heart of the Ponderosa
Dream fragment. Involved dreamscape that I understand when I'm awakening, but it's gone as I write. The only part that I remember is that there's a drought. Everything is very thirsty. There's a large, old ponderosa and 2 or 3 other young trees—maybe birch or aspen. They are in some space that I know, almost an intimate space. Torrential rains come. I'm enjoying the rain with the trees, when I notice that the water pouring off the ponderosa is very warm, like body temperature. The rain falling off the other trees is normal. I'm amazed and call to Andy to come feel the warmth of the water. He does. I say that it feels like the water is coming from the heart of the ponderosa.
(NOTE: Andy is my partner and co-host for the fire circles.)
What is it about trees and their hearts? I obviously like to play in the hearts of these trees, and I have strong connections to Ponderosa, Madrone, and now to the Grandmother Weeping Birch that protects my entire back yard and fire pit underdeath her.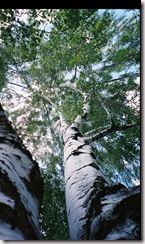 Grandmother Weeping Birch in full summer regalia in the backyard. She has a fatal disease called bronze birch boring beetle…but thanks to modern tree medicine and good ju-ju, she's still alive and doing pretty well. As a community, we burn the dead branches that fall off her like gray hairs each spring, and tell her how beautiful she is, with or without that particular branch…
Hm…just thoughts this morning. What's 'at play' here? Any ideas?
Beth, VTH Host and Recuperating Processed-Out Person
]]>