Warning
: Illegal string offset 'status_txt' in
/home/virtu151/public_html/wp-content/plugins/share-and-follow/share-and-follow.php
on line
1168
Warning
: Illegal string offset 'status_txt' in
/home/virtu151/public_html/wp-content/plugins/share-and-follow/share-and-follow.php
on line
1168
Warning
: Illegal string offset 'status_txt' in
/home/virtu151/public_html/wp-content/plugins/share-and-follow/share-and-follow.php
on line
1168
Warning
: Illegal string offset 'status_txt' in
/home/virtu151/public_html/wp-content/plugins/share-and-follow/share-and-follow.php
on line
1168
Warning
: Illegal string offset 'status_txt' in
/home/virtu151/public_html/wp-content/plugins/share-and-follow/share-and-follow.php
on line
1168
Warning
: Illegal string offset 'status_txt' in
/home/virtu151/public_html/wp-content/plugins/share-and-follow/share-and-follow.php
on line
1168
Warning
: Illegal string offset 'status_txt' in
/home/virtu151/public_html/wp-content/plugins/share-and-follow/share-and-follow.php
on line
1168
Warning
: Illegal string offset 'status_txt' in
/home/virtu151/public_html/wp-content/plugins/share-and-follow/share-and-follow.php
on line
1168
<![CDATA[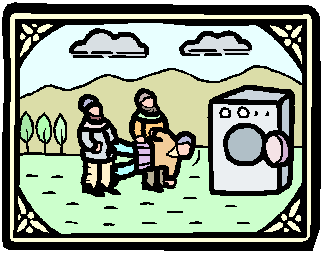 I haven't ironed anything in 3 years. I don't even own a real iron–only a travel version. Even having one of those cute fold-down ironing boards in my cottage won't entice me to iron my clothes–and I have to tell you that I like linen in the summer!
So how do I get my clothes to look halfway decent (and that's an approximation)? By taking them out of the dryer damp or if they're already dry, dampen them and put them back in the dryer before I wear them.
I like doing laundry: it's one of the few things in my life where I can see what I start with, what progress is being made, and know when the job is finished! Why I have this aversion to ironing I really don't know.
But I do know that I've been thinking about the application of heat. Putting the wrinkled jeans (that have been sitting in the dryer for days, dry, wrinkled and lonely) back in the dryer for a damp spin around the block takes the wrinkles out (makes the hardware on them a little warmish to the skin when I put them on fresh out of the spin, but hey!)
Life is sort of like this process I think. We can get our wrinkles taken out by a very hot iron (a big, overwhelming drama such as illness, death, end of a relationship, etc. that we can't miss the implications of) or we can take those wrinkles out with a few spins of generally applied heat (everyday nuances that let us know if we're in sync with ourselves and the world around us…or not).
Examples: I've been tired lately–it's been a hectic few months at my place of work. I didn't take the time to relax much this summer–busy with a lot of projects. I have mild asthma and get bronchitis really easily in the winter. Usually I ignore the tightening of my chest as fall comes on, work harder, sleep whenever I can't think of something else to do. And then there's the holidays, which although I've been working at simplifiying for several years, still seem to overtake me (they are a hot iron to be sure).
This year (maybe it's because my 53 birthday is around the corner, and I'm finally getting 'the sense God gave a goose', as my mother would say) I've started clearing my schedule early. I"m taking on only a few selected holiday parties, saving a lot of space for close friends and family. I'm making almost all of my gifts and finding a lot of joy in planning them. I'm taking the days right after Christmas, but before New Year's and doing a mini retreat with family and close friends on the McKenzie River, near Belknap Hotsprings here in stunning Central Oregon.
I have my house and yard all put to bed for the winter. Could use a little more mulch, but everything will be fine.
Wow. Maybe I'm missing something? I don't think so, I think that I'm finally beginning to work and live smarter.
AND I'm resting. I rested this entire past weekend, only doing a few necessary chores to ready for the week ahead, and my Dream Sisters coming over tomorrow night for a circle. In between, I've napped, and read and worked on the Virtual Tea House. I made a big pot of potato soup. Then I rested some more. I feel ready for the next 6 weeks of usually stress-filled time. I'm not wheezing. I think I'm in the dryer with a damp towel, you know?
Trying to listen to my body and my spirit in this autumn slowing-down-time, beginning the introspection of winter. I don't need, nor do I have the energy, to go at breakneck speed–towards WHAT? For WHAT?
Sheesh already. Where do we say 'no more'? No more energy flowing out without an equal amount flowing in? Where do we stop and allow ourselves to be filled and nourished? As I start to live what I'm beginning to know: that my purpose is not some big thing, but to be aware and alert to the nuances of everything that happens, all that I experience, I'm finding that something has to give to make way for that kind of listening and engagement. Bill's post this week, Eyes of the World said the same thing–showing up is our joy.
So, I'm in the dryer, going around and around, with a damp towel gently easing out my wrinkles, so that I don't have to have the drama of a hot iron making me stop, listen and reflect.
Helloooo out there! Come on in, the dryer is fine!
Beth, VTH Host
Welcome this week to Rita C, Bill and Rosemerry who have all posted on their blogs for the first time!! Welcome…hope you catch the bug!
]]>