Warning
: Illegal string offset 'status_txt' in
/home/virtu151/public_html/wp-content/plugins/share-and-follow/share-and-follow.php
on line
1168
Warning
: Illegal string offset 'status_txt' in
/home/virtu151/public_html/wp-content/plugins/share-and-follow/share-and-follow.php
on line
1168
Warning
: Illegal string offset 'status_txt' in
/home/virtu151/public_html/wp-content/plugins/share-and-follow/share-and-follow.php
on line
1168
Warning
: Illegal string offset 'status_txt' in
/home/virtu151/public_html/wp-content/plugins/share-and-follow/share-and-follow.php
on line
1168
Warning
: Illegal string offset 'status_txt' in
/home/virtu151/public_html/wp-content/plugins/share-and-follow/share-and-follow.php
on line
1168
Warning
: Illegal string offset 'status_txt' in
/home/virtu151/public_html/wp-content/plugins/share-and-follow/share-and-follow.php
on line
1168
Warning
: Illegal string offset 'status_txt' in
/home/virtu151/public_html/wp-content/plugins/share-and-follow/share-and-follow.php
on line
1168
Warning
: Illegal string offset 'status_txt' in
/home/virtu151/public_html/wp-content/plugins/share-and-follow/share-and-follow.php
on line
1168
<![CDATA[
Four More Magic Words and How To Use Them
"No, Mommy!" says the three-year-old boy, bolting from bed. "You didn't do it right. Start over."
Oh yeah.
I have learned that for me, there is one magic word. Please. Of course. It works wonders. I will give the kid chocolate at bedtime if he says "Please, Mommy, can I have some chocolate, please?" And oh the hope-full smile that goes with it.
But if I say please to him, I often get nothing. "Please put your head on the pillow." Nope. "Please walk with me." He walks the other way.
Please isn't good enough.
For my son, there are four words that work magic. Once. Upon. A. Time.
For centuries, it's a phrase that has engaged the imagination. After one utters these words, who knows what comes next? Anything is possible. Fairies might frolic. Elves might connive. Giants might battle with gremlins or pirates. Little boys might stop wiggling and lie perfectly still. Little boys' friends might stop crying in seconds and sit breathless at the counter awaiting the next word.
That's right. Anything is possible. And I have seen the toddler magic work a lot lately. All I need to do is breathe in audibly and then whisper, "Once upon a time." Abracadabra. They're in my palm. To say these words is to promise a child an imminent imaginary world in which imagination rules.
And let's face it, kids aren't the only ones looking for creative ways to figure out what's going on in the world around us. Stories are a great way to explore, instruct, warn, amuse and defuse.
There are, of course, many traditional folk tales—stories passed down through the generations that belong to an entire culture. Some patterns here: There's always a challenge. There's often a lesson. Animals can talk. Good fights evil (and usually wins). But the details of the story may vary greatly from teller to teller. Consider how many ways you've heard The Three Bears or Little Red Riding Hood.
And beyond the well-known fairy tales and myths, legends and fables, there's a whole world of new stories waiting to be told every day. About the deer hit by a car—and what did its mommy do? About the windows that need to be washed—and by whom? About the little boy who rides planes to Zanzibar to eat pizzas and meet the giraffes.
I have never thought of myself as a story teller. I write poems because I am plot challenged. I write articles because I am more of a researcher than an innovator. But even I fall under the trance of "Once upon a time," and start to weave. Good news for folks such as I: for a three-year-old boy, the story doesn't need to be perfect, it just needs to involve a tractor. And a mountain lion.
If you're interested in telling a few more stories yourself, consider some of these things I've been noticing in my recent narrative dabblings:
One: a story begun with Once upon a time need not be restrained by linear time. It occurs in the past, but not a specific past. The idea is that it happened once, and perhaps it could happen again.
Two: Fairy tales need not have fairies. In fact, the word fairy comes from the Latin fatum, meaning "to enchant." They might have talking cauliflowers. But they usually do have happy endings.
Three: Happy endings are best for three-year-olds.
Four: Private myths that explain why the world is the way it is (the thunder is just the sky laughing, for instance) are often challenged with "But why?" Be prepared for these stories to go on and on. And on.
Five: Children love to be the hero in a legend—a historical sounding story that involves some kind of brave deed. In fact, I put my son into almost every story. But as any good fiction writer can tell you, one of the best things you can do for a story is to take yourself out of it—and anyone else you love. Why? Because we are reluctant to get ourselves in really good, chop-licking trouble. A stranger? Throw him in into the dungeon and set the dragons on him. The spiders, too.
Six: When in doubt, let the kid help you out. I will often pause to let my son fill in the blank. For instance, "And then they ate __________," or "So then the little boy and his kangaroo went to ___________." The co-creation makes the story more fun for me and for my son, too.
Seven: If it gets boring, add the word, "suddenly …."
Eight: If it's still boring, add a snake.
Nine: One more magic word. After you say "The End," tack on one more, "until …" say it with drama. Now you're set up for the next story request. Which is usually "Right now, Mommy. Please? Please?"
What's a mommy to say? It starts with four little words.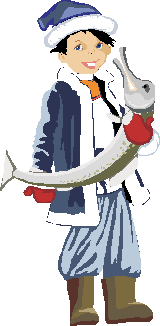 ]]>